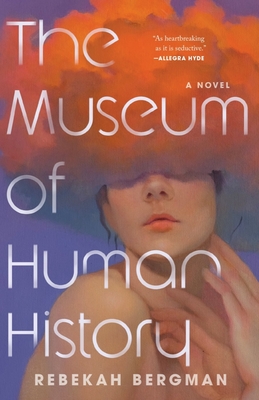 The Museum of Human History
Paperback

* Individual store prices may vary.
Description
Complex, philosophically searching, and gorgeously rendered, Rebekah Bergman's The Museum of Human History is a sharp and startling debut about a young girl frozen in time in a world obsessed with youth and self-preservation.
After nearly drowning, eight-year-old Maeve Wilhelm falls into a strange comatose state. As years pass, it becomes clear that Maeve is not physically aging. A wide cast of characters finds themselves pulled toward Maeve, each believing that her mysterious "sleep" holds the answers to their life's most pressing questions: Kevin Marks, a museum owner obsessed with preservation; Monique Gray, a refugee and performance artist; Lionel Wilhelm, an entomologist who dreamed of being an astrophysicist; and Evangeline Wilhelm, Maeve's identical twin. As Maeve remains asleep, the characters grapple with a mysterious new technology and medical advances that promise to ease anxiety and end pain, but instead cause devastating side effects.
Weaving together speculative elements and classic fables, and exploring urgent issues from the opioid epidemic to the hazards of biotech to the obsession with self-improvement and remaining forever young, Rebekah Bergman's The Museum of Human History is a brilliant and fascinating novel about how time shapes us, asking what—if anything—we would be without it.
Praise For The Museum of Human History…
Rebekah Bergman's exploration of our strange biologies reads like the irresistible beating hands of time. This daughter of Mary Shelley delights and excites the border between story and science as she doles out questions that both haunt and expose our obsessions.
— Samantha Hunt, author of The Unwritten Book

In The Museum of Human History, Rebekah Bergman offers readers what we as individuals can rarely see on our own: the interconnectedness that hums between every human being, the high cost of painlessness and hard truths of our inevitable obsolesce. This is a novel about what we want and also what we can't escape—a story as heartbreaking as it is seductive.

— Allegra Hyde, author of Eleutheria

Rebekah Bergman's The Museum of Human History is one of the most agile novels I have read in a long time. It reads like a documentary retold as a dream retold as a mystery novel. What a wise, good-hearted debut!

— Kate Bernheimer, author of Fairy Tale Architecture

There are no static exhibits or neatly segmented timelines in Bergman's The Museum of Human History. Here, lives bleed into each other, echoing on decades, centuries, millennia after they end (if they end). A haunting chord of a novel that will hang in the air long after you turn the final page.

— Tiffany Tsao, author of The Majesties
Tin House Books, 9781953534910, 300pp.
Publication Date: August 1, 2023
About the Author
Rebekah Bergman's fiction has been published in Joyland, Tin House, The Masters Review Anthology, and other journals. She lives in Rhode Island with her family.