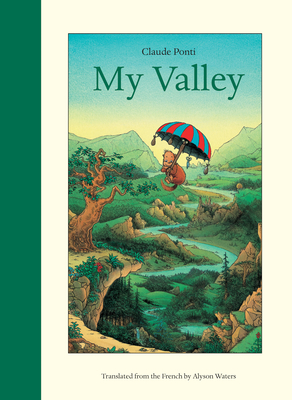 My Valley
Paperback

* Individual store prices may vary.
Other Editions of This Title:
Hardcover (3/7/2017)
Description
In My Valley, Claude Ponti leads us on a journey through an enchanted world inhabited by "Touims" (tiny, adorable, monkey-like creatures), secret tree dwellings, flying buildings, and sad giants. Clever language and beautifully detailed maps of imaginary landscapes will delight children and adults alike. Ponti himself has said, "My stories are like fairytales, always situated in the marvelous, speaking to the interior life and emotions of children. That way each child can get what they want out of the images: the characters and dreams are their own."
Praise For My Valley…
"A mix of comical vignettes and broad vistas illustrate an account of the lives and misadventures of a clan of tiny Twims.... Action with immersive, full-page or larger land- and seascapes that seem to go on forever while offering multitudinous crags, glades and foreground features to investigate. Like Poochie-Blue, visitors to the valley will be in no hurry to leave." — Kirkus Reviews (starred review)

"Ponti's beautiful, intricate illustrations contain strange details hinting at larger stories. The guileless narrative sounds like it came directly from the brain of a child with a vivid imagination, and fanciful kids drawn by the enchanting artwork might find their own imaginations sparked by this odd, playful French import." — Sarah Hunter, Booklist

"Claude Ponti's gorgeous, deliciously oversized French picture book My Valley may feel to adults like one of those childhood favorites whose illustrations are forever etched in their minds. . . My Valley is firstly elaborate world-building; its real storytelling lies in distinct vignettes. . . A wonder." — Karin Snelson, Shelf Awareness

"Ponti's dreamy paintings of towering trees and distant hills are worth lingering over. . . Fans of immersive fantasy worlds will feel that they have discovered a treasure." — Publishers Weekly (starred review)

"My Valley is wonderfully large...as it needs to be to offer a world of vast spaces.  It's certainly big enough for a grandfather and grandson to hide behind. Ponti illustrates his own work, and while he can zoom in for the close detail, such as the eye of a curious giant, he's equally good with a broad panorama.  My Valley is filled with many full and detailed pages of the Blue Valley's landscape, representing all four seasons.  They're an invitation to pause, regard the view, and get to know the world of the Twims as if you had their eyes, and as if you were their size." —Philip Graham, The Millions

"The world Mr. Ponti has created... is one that I will be devouring for a long time... Truly, the sheer scope of this book is awe-inspiring...  As a budding illustrator or artist, I would have lived in this book as a child, right alongside the Twims." —Elizabeth Dulemba

"Imagine the sweeping vistas of Maxfield Parrish coupled with a world so snug and cozy a hobbit would be jealous and you've got yourself a book that outright refuses to cater to our preconceived notions of what a picture book should be. Lush and lovely, cuddly and warm, this is one uncanny valley you may never wish to leave. . . when a book like My Valley comes along, surely it's too good an opportunity to pass up. . . awe-inspiring. . . A jaw-dropper make comfortable for the younger set. Worth discovering." — Elizabeth Bird, Collection Development Manager of the Evanston Public Library system; former Materials Specialist for New York Public Library

"My Valley marks a particularly exciting addition to the world of translated literature... lush with colorful and stark imagery that readers of all ages will find infinite secrets in. The pastiche of stories contain magic, compassion, and tongue-twisting names that will delight families for storytimes to come. This is a truly unique addition to any storybook collection." -Kevin Elliott, 57th Street Books

"Claude Ponti, in my eyes, is one of the most essential authors in the whole of children's literature. His bursting creativity and the wealth of his images incite the almost systematic pleasure of children. The Pontian universe, with its many cultural and artistic references, its themes and its language distinctive of the world of childhood, its originality in its forms, colors, typography, and the arrangement of its scenes, presents an offering of narratives that strongly engage children's emotions and which meet them on the horizon of their expectations. Here children often find the power that a new piece of knowledge or the control of a word bring, and which allows them to influence their destiny just a little bit more." --Annie Dupin

"The work of Claude Ponti bursts to the point of vertigo; My Valley is a marvel, a book in the line of Borges, oriented toward infinity. My Valley is a masterpiece of children's literature, a masterpiece of images and text, of dreams – quite simply, a very great book." — Au bout de la corde

"Each page is an invitation to reverie, a small tale inside a large one, dense and enigmatic such that you will linger there in contemplation." — Anne Diatkine, Libération

"A child could get happily lost in the valley – the most beautiful place in the world - where the Twims live. Twims are little furry critters with long tails that look something like a chubby monkey and something like a small bear. They live in tree houses and enjoy many of the same occupations as humans but their lives are very peaceful, almost free of discord. The illustrations convey a magical world that anyone would want to live in full of love, beauty, fun and intrigue." — Katrina Yurenka, Youth Services Book Review 
Elsewhere Editions, 9781953861566, 40pp.
Publication Date: April 25, 2023
About the Author
CLAUDE PONTI is a prolific author, painter, and illustrator, known for his humorous explorations of the nonsense world of dreams. His first picture book, Adele's Album, was created to amuse his young daughter; he has since authored more than sixty children's books. On a personal note, Claude says: "I'm left-handed; I prefer cats to dogs (they don't lick people); and I'm not a vegetarian because I can't stand the cry of the lettuce or the carrot wrenched from the earth." He also fondly remembers climbing trees as a young boy, looking for the best spot to sit and read a book. Claude Ponti currently divides his time between the French countryside (where there are many birds, such as pheasants) and Paris (where there are pigeons).

Translator ALYSON WATERS's translations include Albert Cossery's A Splendid Conspiracy and The Colors of Infamy, Vassilis Alexakis's Foreign Words, René Belletto's Coda, and - with Donald Nicholson-Smith - Yasmina Khadra's Cousin K. She lives in Brooklyn and teaches at Yale University and New York University.