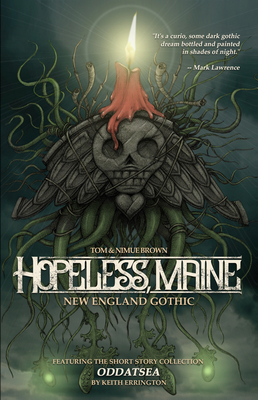 Hopeless, Maine
New England Gothic & Other Stories
Paperback

* Individual store prices may vary.
Description
The Hopeless, Maine project came to life as the collective dream/nightmare of Tom and Nimue Brown. It began as a graphic novel series set on a gothic island lost in time. Since then the creative family has grown and there are many who have come to play on this strange island and now will never leave. "The moon hadn't risen, but starlight showed Annamarie the way. She saw well enough, and the island by night held no terrors for her. She had been running away to its wilder places for as long as she could remember." New England Gothic is the story of Annmarie Nightshade, an orphan who becomes a witch on the island of Hopeless, Maine. There are betrayals, heartbreak, and many dangers to overcome but there are also wonders, near escapes, and strange journeys. You will meet dark sorcerers, a mad inventor in a lighthouse, and the strangest familiar in the history of witchcraft.
Outland Entertainment, 9781954255128, 300pp.
Publication Date: October 26, 2021
About the Author
Keith Errington has been writing stories since his schooldays, winning competitions and writing for a variety of publications and anthologies. He has been a magazine designer, typographer, art editor, editor, trainer, and technical consultant to many creative consultancies. He is currently a professional marketing blogger and publisher of SteamPaper, the monthly email newsletter for UK steampunks. There's also an unsubstantiated rumour that he dresses up as a mad Russian steampunk and performs 'comedy.' He lives in a small village surrounded by an inordinate amount of Lego and piles of board games. Author of fiction and non-fiction works. Wife of illustrator Tom Brown. Born in Gloucestershire, Nimue Brown has a degree in English Literature and has been writing under other names for about a decade. She has been a PF volunteer, Druid Network and OBOD volunteer. Nimue writes for Moon Books Snowbooks and the nerdbong podcast. She is a prolific blogger and is open to requests for blog content, essays, and magazine articles. Having started as a novelist, she came into comics through her relationship with artist Tom Brown. She writes poetry, short fiction, and non-fiction.
or
Not Currently Available for Direct Purchase