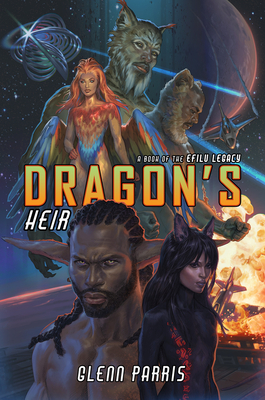 Dragon's Heir (The Efilu Legacy)
Paperback

* Individual store prices may vary.
Description
Earth. 1996. It's not an alien invasion—it's a homecoming. Sixty-five million years ago, while titanic dinosaurs roamed the earth, the Efilu created an advanced civilization full of technological marvels. In the face of worldwide catastrophe, the Efilu fled to the stars, leaving a devastated planet behind them. As they migrated across the galaxy, Efilu civilization flourished. When disaster strikes again as a mysterious plague, the interstellar ship ReQam is sent back to their planet of origin, in search of untainted materials to create a cure. The ReQam's archaeologist, Vit Na, feels unsure of her role in the expedition. Then the Efilu discover their homeworld now thrives, dominated by mammals. Strangely, these animals have evolved to resemble the Efilu in shape and culture. As human civilization mirrors their own in odd and disturbing ways, Vit Na's archaeology training becomes vital to the mission. If this cosmic pandemic—or humanity—have been engineered, there may be dire consequences for Earth. Worse, there may be enemies among the crew. Deciding who to trust may be Vit Na's biggest challenge of all.
Praise For Dragon's Heir (The Efilu Legacy)…
"The combination of Parris' stunning imagination and science background has created an engrossing universe, so real I couldn't stop reading. I was completely drawn into the elaborate world of highly evolved beings and humans, and immersed in the unfolding of this multi-dimensional existence that hints at issues in our reality. I thoroughly enjoyed the journey." —Linda D. Addison, award-winning author, HWA Lifetime Achievement Award recipient and SFPA Grand Master

 

"A meticulous and original sci-fi romp. Full of creative ideas and pulse-pounding action, where true heroes are in short supply." —Robert J. Duperre, author of Vowbreaker

 

"Most of us never outgrow our love of dinosaurs, but often, books about them don't grow up with us. That's not the case with Glenn Parris' singular novel Dragon's Heir. This is what you'd get if Tom Clancy had written War and Peace in Dinotopia. " —Charles E. Gannon, author of the Black Tide Rising series
Outland Entertainment, 9781954255265, 428pp.
Publication Date: May 4, 2022
About the Author
As a board certified rheumatologist, Glenn Parris has practiced medicine in the northeast Atlanta suburbs for over twenty years. He has been writing for nearly as long. Originally from New York City, Parris migrated south to escape the cold and snow, but fell in love with the southern charms of Georgia and Carla, his wife. He now writes cross-genre in medical mystery, science fiction, fantasy, and historical fiction.