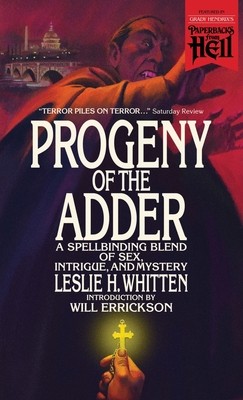 Progeny of the Adder (Paperbacks from Hell)
Paperback

* Individual store prices may vary.
Description
Homicide detective Harry Picard has seen a lot of violent deaths . . . but never like this. Three bodies-blond, female, strangely emaciated-have been found in the Potomac River with their throats brutally slashed. Each victim was last seen in the company of a huge, hulking man dressed in black. Picard's investigation catapults him into a roiling morass of passion, sexual intrigue, violence, and primordial fear . . . as he faces an enemy as powerful, and as horrifying, as mankind's oldest superstitions
First published in 1965, Leslie H. Whitten's Progeny of the Adder updated the traditional vampire tale by bringing the undead out of the Old World and into a police investigation in a large American city for the first time-a formula often imitated in the decades since. This reprint, the first in thirty years, includes a new introduction by Will Errickson.
"Fast, engrossing, and violent." - Chicago Tribune
"Stunning . . . original and exciting." - Washington Star
"Good writing and authentic atmosphere." - The Wall Street Journal
Valancourt Books, 9781954321601, 216pp.
Publication Date: July 12, 2022