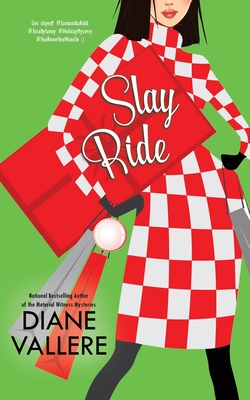 Slay Ride
A Samantha Kidd Mystery (Samantha Kidd Mysteries #10)
Paperback

* Individual store prices may vary.
Description
Bah, Hashtag
When fashion insider Samantha Kidd lands a temporary assignment as a social media influencer two weeks before Christmas, she dives into the world of lifestyle goals. The job provides props to encourage drool-worthy posts, but when a colleague goes missing, the illusion of the perfect life fades like an out-of-date filter.
The only clues are found on his Instagram timeline, which Samantha knows has been staged. Maintaining appearances takes a back seat to finding the missing man, but when the lines between authenticity and hype are blurred, she'll either find the truth ... or drown in a sea of hashtags.
​
Can Samantha keep murder from trending?
​
Slay Ride is the tenth charming cozy in the Samantha Kidd mystery series. If you like holiday mysteries, fashionable settings, and friendship fiction, then you'll love Diane Vallere's influencer mystery.
​
Get slayed #SamanthaKidd #Totallyfunny #HolidayMystery #YouKnowYouWantTo: )
Polyester Press, 9781954579101, 200pp.
Publication Date: January 7, 2021