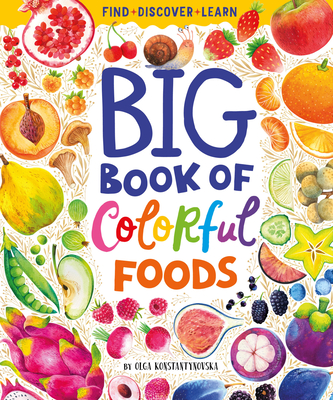 Big Book of Colorful Foods (Find, Discover, Learn)
Hardcover

* Individual store prices may vary.
Description
In this newest addition to the
Clever Big Books
series,
Allie the snail
lives in an
apple tree
. She eats only apples because that's the only food that grows there! One day, she leaves her apple tree and discovers that there is a
rainbow of different foods
for her to try.
There are red cherries, peppers, and watermelon; there are orange carrots, apricots, and pumpkins; there are yellow lemons, bananas, and corn—and so many other brightly colored foods.
Children will learn about a variety of fruits, vegetables, and more foods as they travel with Allie through the meadow.
Clever Publishing, 9781954738485, 24pp.
Publication Date: June 14, 2022
About the Author
Olga Konstantinovskaya is an artist and illustrator based in Prague. She grew to love painting from childhood. In 2011, Olga graduated from the Academy of Arts and Design. She got a designer job, and after that, she animated 3-D game characters. For the last six years, Olga has created several thousand watercolor and graphic illustrations. In 2017, she wanted to create something for her precious newborn daughter. Sketches gradually turned into a children's book about colors, fruits, and vegetables. Olga believes that the book will make her daughter love broccoli!
Clever Publishing was founded in 2010 with the purpose of changing children's lives for the better. We create a world full of fascinating experiences for families through our books, games, sets, and series. Focusing on Pre-school and Edutainment, we've developed a wide range of innovative formats with modern teaching techniques. Kids love to read, touch, and play while learning, so our program includes products for all ages, including box sets; board books; puzzle books; learning flash cards; interactive coloring, activity, and word play formats; and boards games for the entire family. Our dream team - more than 100 employees worldwide - have a comprehensive understanding and knowledge of children's books. With this expertise, we present products that are fun, entertaining, and vibrant. We are modern and educational and strive to always emphasize the importance of first experiences. We connect to the needs of busy parents and aim to enrich the time spent with their children. Our goal is to make children - as well as their parents happy!