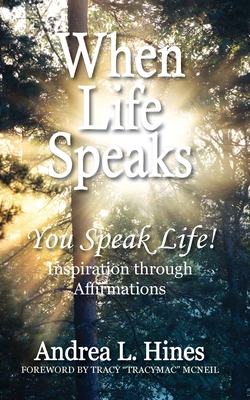 When Life Speaks
You Speak Life
Paperback

* Individual store prices may vary.
Description
If someone told you words are powerful, most of you would agree. Our words can help us to achieve great success or they can diminish our self-confidence and our self-worth. We often imagine it is what others say about us that affect us the most. But the truth is, even if someone speaks well of us, those words carry little weight unless we are also able to speak good things about ourselves. You may have to change your language in order to enjoy the power of the positive. Though it might be challenging, the good news is, now you have help. In 'When Life Speaks', author and certified life-coach Andrea L. Hines offers thirty-one affirmations to give your words the power they need to keep you in a place of strength. They will help you plant seeds to fill your future with hope. Read them slowly, speak them boldly, and watch your faith rise as your expectation is activated. Journal pages are also included so you can write your own unique affirmations and empower yourself to speak life when life speaks to you.
Studio Griffin, 9781954818026, 102pp.
Publication Date: March 24, 2021