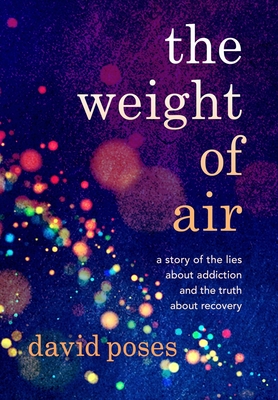 The Weight of Air
A Story of the Lies about Addiction and the Truth about Recovery
Hardcover

* Individual store prices may vary.
Other Editions of This Title:
Digital Audiobook (9/27/2021)
Paperback (7/6/2021)
MP3 CD (9/28/2021)
Compact Disc (9/28/2021)
Description
"Soulful, achingly honest . . . A potent addition to the literature on drug addiction and recovery."--Kirkus Reviews (starred)
While his wife and two-year-old daughter watched TV in the living room, David Poses was in the kitchen, measuring the distance from his index finger to his armpit. He needed to be sure he could pull the trigger with a shotgun barrel in his mouth. Twenty-six inches. Thirty-two years old. More than a decade in a double life fueled by depression and heroin.
In his groundbreaking memoir, The Weight of Air, David chronicles his struggle to overcome mental illness and addiction. By age nineteen, he'd been through medical detox, inpatient rehab, twelve-step programs, and a halfway house. He saw his drug use as a symptom of depression, but the experts insisted that addiction was the problem. Over the next thirteen years, he went from one relapse to the next, drowning in guilt, shame, and secrets, until he finally found an evidence-based treatment that not only saved his life, but helped him thrive.
With grit, humor, and brutal honesty, David's story exposes the danger in traditional recovery models: they actually increase stigma and the risk of overdose, relapse, and death. As depression and addiction rates skyrocket and overdose fatalities surge, The Weight of Air is a scathing indictment of our failed response to the opioid crisis--and proof that success is possible.
"David Poses's unflinching memoir takes you to the dark corners of addiction--and shows there's a way out."--Eric Eyre, Pulitzer Prize winner and author of Death in Mud Lick
"A searingly honest addiction memoir with a much-needed perspective."--Maia Szalavitz, New York Times best-selling author of Unbroken Brain
Sandra Jonas Publishing House, 9781954861992, 252pp.
Publication Date: July 6, 2021