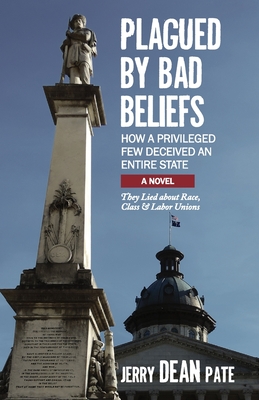 Plagued by Bad Beliefs
Paperback

* Individual store prices may vary.
Description
False beliefs are always more powerful than truth.
In the South, speaking truth to power can have dire consequences.
Small town newspaperman Vernon Covington knows firsthand the corruption that fueled the 1934 textile strike. For publishing truth supported by facts, his newspaper is foreclosed, he is run out of town, and his spirit nearly broken.
Nearing the end of his career and drowning his demons with alcohol, he shares a desk with Betsy McCall, a feisty young reporter who herself gets tossed out of a United Daughters of the Confederacy meeting for challenging the myth of the Lost Cause. Together, they are determined to cut through the fraudulent history of the South and expose how those wanting to remain in power manipulated whole generations into accepting half-truths and lies as common knowledge.
They discover that whites seized control of the South Carolina legislature from Black officials and forced a US President to topple a governor so a Confederate General could take his place.
Vernon tells Betsy how racism was invented to keep poor whites and blacks apart politically and that Betsy's aunt was murdered because she was a woman - a bold woman - at a time when men didn't like bold women, especially one daring to lead a union drive and a protest about the brutal working conditions and low pay at Crowell Textile Mill.
This vivid and unforgettable account of a South Carolina town stretches from the heyday of slavery, through the Civil War to the Great Depression. It reveals what happens when communities embrace false ideas and provides background for how America's democracy is at risk because even today there is a plague of bad beliefs.
Writepublishsell, 9781955119276, 350pp.
Publication Date: June 28, 2022