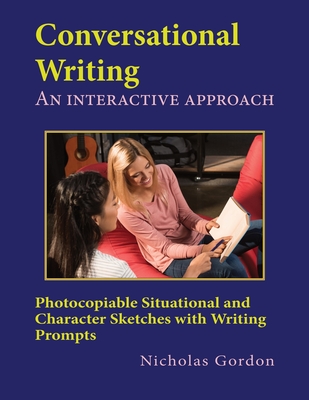 Conversational Writing
An Interactive Approach
Paperback

* Individual store prices may vary.
Description
Make Writing Lively, Surprising, and Social
Many students view writing work as just that: work, boring drudgery. Worse, as they master the structural requirements of academic writing, their prose can get more formulaic and stale
Conversational Writing is the antidote This unique book complements the writing teacher's toolbox and enhances students' facility, joy, and creativity with writing.
It turns writing into a conversation, an interactive and dynamic activity Students get an original, imaginative situation and several prompts. They respond to one prompt and pass the paper. The result is a work with multiple authors and multiple ideas. The perfect fluency writing activity or use it as a prewriting for a longer essay or story
Praise For Conversational Writing: An Interactive Approach…
The writing assignments allow for creativity while fitting in some useful idioms and vocabulary. Students are sure to enjoy the wide-ranging topics and types of writing included in this volume." – Maggie Sokolik, Director of the College Writing Program, UC Berkeley, and author of How to Write an Essay and Academic and Business Writing

"I love the approach of conversational writing as a bite-sized way to combine speaking and writing skills. An innovative and highly useful resource!" — Taylor Sapp, author of Stories Without End and What Would You Do?

"…aims to develop not only writing skills but also writers. Each sketch of eight thematic units is carefully crafted to entice students to learn more about a subject, be creative, and explore different language forms, voice, genres, and points of view." — Martha Sidury Christiansen, Assistant Professor, University of Texas
Alphabet Publishing, 9781956159028, 92pp.
Publication Date: August 1, 2021
About the Author
Nicholas Gordon is an Outreach Coordinator with English Language Programs at Georgetown University, a program of the U.S. Department of State. He has taught in South Korea, Saudi Arabia, Ukraine, and New York, where he worked in the City University of New York's intensive writing program with students from all over the world. As an English Language Fellow in Ukraine, he served as the director of the English Writing Center at the National University of Kyiv-Mohyla Academy.