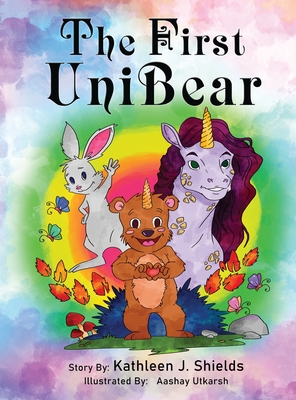 The First Unibear
Hardcover

* Individual store prices may vary.
Description
Silver Medal Winner - Readers Favorite Book Awards - Children's Fable
First Place Winner - North Texas Book Festival
Winner of the Pinnacle Book Achievement Award - Best in Children's Christian
Red Ribbon Winner from the Wishing Shelf Book Awards UK
Winner of the Literary Titan Book Award
Honorable Mention from the Purple Dragonfly Book Awards
This happy-go-lucky little Bear cub loves to explore One day he follows a butterfly into the dark woods where he sees a curious sight and a shimmering light. A beautiful white horse needs help and this tiny young bear hurries to save him.
What follows is a magically inspirational tale of what can happen if you follow your heart, have good in your soul, and do good deeds.
"Only the pure with good in their soul have the power and magic to see me as whole." The Unicorn
8.5″ x 11″ Hardback Book
Colorfully Illustrated
Rhyme in Verse
Strong Moral Values
Scripture about Unicorns (KJV)
"Once you receive the gold on your head, the magic will flourish, the magic will spread." The Unicorn
The author, Kathleen, wrote this story when she was ten years old
Highly edited since then, the last three stanzas haven't changed in 34 years With a highly creative imagination, Shields' used her love of unicorns, Care Bears and magic to share a story that illustrates the innocence of a child. Her father encouraged her to publish "Unibear" for thirty years. He believed so highly in this story he'd bring it up in conversation often. Three years to the date of her father's passing, Kathleen released this book in honor of his memory. It's stellar start made a "Sad Day into a Glad Day"
*Also check out the black and white coloring book that has the same wonderful story, but gives an activity for the child to take part in.
** View the video to see more of the inside of this book
*** And for a very special treat: Visit the authors website to watch the complete 12 minute long video animation of the author narrating the entire book. "An excellent video for children " Let your children watch and listen to the story as it is read to them by the author herself Flipping pages, showcases the full story book, with animations throughout and the author's own take on this inspirational story that is near and dear to her heart.
Erin Go Bragh Publishing, 9781956581003, 48pp.
Publication Date: August 30, 2021