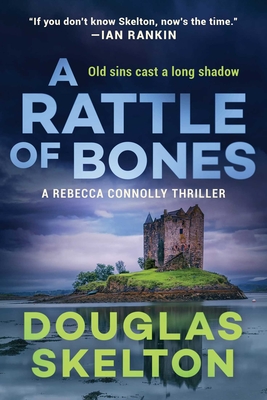 A Rattle of Bones
A Rebecca Connolly Thriller
Hardcover

* Individual store prices may vary.
Description
Old sins cast a long shadow in this unrelenting thriller by the author of Thunder Bay.

When banners proclaiming the innocence of James Stewart spring up at the gravesite of his famous namesake—a clan leader who was falsely accused of murder and hanged almost three hundred years ago in a miscarriage of justice that still resonates—investigative reporter Rebecca Connolly smells a story.
 
The publicity stunt was clearly meant to draw attention, but what's behind it and why now? The young Stewart has been in prison for ten years for the brutal murder of his lover, lawyer and politician Murdo Maxwell, in his home in Appin, near the site of the Stewart monument. Rebecca soon discovers that, prior to his murder, Maxwell believed he was being followed, and his phones were tapped. What would justify a government phone tap against a public figure? And why is a Glasgow crime boss so interested? As Rebecca keeps digging, she finds herself in the sights of Inverness crime matriarch Mo Burke, who wants payback for the damage caused to her family in a previous case.
 
Set against the stunning backdrop of the Scottish Highlands, A Rattle of Bones is a tale of injustice and mystery, and the enduring echo of the past in the present.
Praise For A Rattle of Bones: A Rebecca Connolly Thriller…
Praise for Douglas Skelton and A Rattle of Bones, longlisted for Bloody Scotland's McIlvanney Prize:
"If you don't know Skelton, now's the time."—Ian Rankin
"A master of his craft."—Scots Whay Hae
"Among Scotland's top cadre of crime writers."—Scotsman
"Outstanding . . . Once again, Skelton carefully draws together the many plot strands in this rewarding slow-burner, rich in both characters and landscapes. Skelton remains a writer to watch."—Publishers Weekly, starred review
"An intriguing Highland mystery peopled with quirky characters and peppered with wit."—Times Crime Club, Pick of the Week
"A compelling thriller, laced with dark humour."—Sunday Post 
"A cracking good read."—Crime Fiction Lover
"Packed with mystery and suspense . . . [but] the real draw for me is how Skelton expresses his characters. He clearly has a path he is building, and their growth feels natural."—Geek Girl Authority
"Simply superb, and you simply must read it. . . . [Skelton has] absolutely hit the bullseye here with a character-driven gem I know I want to reread over and over."—crimebookgirl
"This is Tartan Noir at its best: and a book we'd highly recommend."—Undiscovered Scotland
"Amongst my best books of the year . . . Beautifully written, very atmospheric, weaving Scottish history in with the criminal underworld of today."—simplysizereviews

Praise for Thunder Bay, the First Rebecca Connolly Thriller
"Exquisite language, credible characters, and unrelenting suspense—this crime novel has it all. . . . Powerful flashbacks help build to the spectacular conclusion."—Publishers Weekly, starred review

"Imbued with the stark beauty of Scottish island life, this atmospheric mystery pulls us into an exploration of human frailty, family loyalty, and the destructive power of secrets. For readers of Denise Mina or anyone seeking a relatable protagonist and a well-told story."—Library Journal

"A darkly claustrophobic tale set on a remote Scottish island, where secrets and lies and family feuds all lead to murderous consequences. Douglas Skelton's writing always delivers, nowhere more than with Thunder Bay."—Craig Russell, author of The Devil Aspect

"Did Roddy kill his girlfriend, Mhairi? . . . On the way to figuring this out, there are a lot of deep, dark—and I mean dark—secrets that are uncovered. . . . Almost everyone on this island is hiding something terrible. . . . It's the type of crime fiction that Irish and Scottish writers do particularly well."—Inside Flap

"A surprisingly gripping read. I had no idea where things were going to end up, . . . Skelton's characters kept bucking expectations as they tried to stick to Stoirm's 'ethical' code. . . . Readers looking for something out of the ordinary and atmospheric might like this one."—A Bookish Type

"A mesmerizing novel with an intriguing mystery, a distinctive setting and interesting characters. . . . With shocking plot twists, Skelton brings this multilayered mystery to a very dramatic conclusion."—book reviews and more by kathy

"The risks Skelton took in creating Thunder Bay have paid off in spades. As well as creating a sympathetic new protagonist, he has crafted an emotionally truthful tale and delivered it in a lyrical style that places him among Scotland's top cadre of crime writers."—Scotsman
 
"Immersive, compelling, and shot through with Skelton's pitch-black humour, Thunder Bay will reverberate like the last echoes of a storm long after you read the jaw-dropping climax."—Neil Broadfoot, author of the MacGregor and Drummond thrillers
 
"Razor sharp . . . An outstanding piece of crime fiction. Not to be missed."—Denzil Meyrick, author of the Detective Daley thrillers

"Skelton builds up the suspense before going in for the kill. A particularly gripping thriller."—Herald

"'Skelton proves once more that he is master of his craft. I can't think of many, if any, other writers who bring such varied and distinctive styles to their books. . . . [He's] a writer who you can't pidgeon-hole or pin down. I, for one, can't wait to see what he gives us next."—Scots Whay Hae

"Digs deeply, focuses closely on the families at the heart of events. The novel follows Rebecca's attempts to understand what being an islander means, and her own relationship with the island of Stoirm. I'd say it's [Skelton's] best yet, and I hope there are more to come in this vein."—iScot Magazine

"It's beautifully written, descriptive and atmospheric. The pacing is perfect, and the conclusion unexpected. Douglas Skelton has delivered possibly his best work yet, and that really is saying something! It's a triumph."—Simply Suze Reviews
 
"Douglas Skelton excels at planting little seeds throughout his writing, drawing the reader in, and ensuring that they pull up a chair and watch them grow. He succeeds in intriguing you and keeping you firmly on your seat until the last page is turned."—Chapter in My Life
 
"Dark, brooding, atmospheric and full of mystery, this is a book I would highly recommend you read. I loved it."—Jen Med's Book Reviews
 
"Skelton has produced an evocative, beautiful, and tense tapestry of a read."— Live and Deadly
 
"A gripping and thrilling read from one of the great Scottish crime writers, themes of crime, mystery, secrecy and loyalty all woven together to make Thunder Bay one of those books that will stay with you long after you've turned the last page."—Kate Noble, The Quiet Knitter

Praise for The Blood Is Still, the Second Rebecca Connolly Thriller:
"Credible, multilayered characters enhance the intricate, high-tension plot. Skelton's growing legion of fans will avidly await brave, dogged Rebecca's next outing."—Publishers Weekly, starred review

"An intricately plotted thriller . . . Lyrical and thoughtful."—Library Journal

"Douglas Skelton's writing always delivers."—Craig Russell, author of The Devil Aspect

"While the action keeps coming like blood from a severed artery, Skelton show us the souls of his characters. . . . A stand-out thriller."—Scots Magazine

"A corking read."—The Scotsman

"It would be so easy to romp through The Blood Is Still—the plot is compelling and the characters are so darn realistic, but I advise you to hold fire and take time to savour some of the gorgeously lyrical prose that's sitting there in among all of the drama."—Crime Fiction Lover

"Once again great characters, we hear more from reporter, Rebecca Connolly and the tension just keeps you on your toes all the way through. It's also full of Douglas Skelton humour too which just makes it a marvellous read!"—Independent Book Reviews

"IIt's a triumph. I absolutely loved it, and everyone should read it!."—SimplySuzeReviews

"Skelton's years as the editor of a local newspaper make for an intrinsic, pitch-black depiction of the competition between the police, the press, and the powers-that-be in the scramble to construct and control narratives. . . Suspenseful."—Dundee Courier, Scottish Book of the Week

"A captivating, intricate and thoroughly satisfying thriller."—LoveReading

"Absolutely unmissable . . . A compelling read with characters you care about and a layered, intelligent plot that captures both the heart and the mind."—LiveandDeadly.net

"Incorporating concerns about the spread of populism and the downsizing of news reporting, Skelton's intriguing premise keeps you reading avidly to see how he's going to tie it all together and make it work."—Herald
Arcade Crimewise, 9781956763010, 312pp.
Publication Date: November 1, 2022
About the Author
Douglas Skelton was born in Glasgow. He has been a bank clerk, tax officer, taxi driver (for two days), wine waiter (for two hours), journalist, and investigator of real-life crime for Glasgow solicitors. He has written eleven true crime and Scottish criminal history books but now concentrates on fiction. His novels Open Wounds and Thunder Bay, the first Rebecca Connolly thriller, were longlisted for the McIlvanney Prize for best crime book of the year. He lives in southwest Scotland.