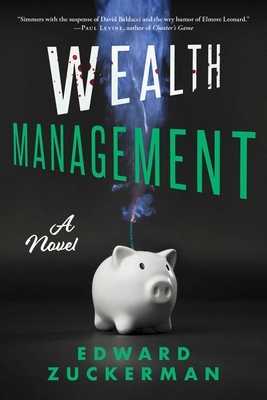 Wealth Management
A Novel
Hardcover

* Individual store prices may vary.
Description
For Fans of Jess Walter and Gary Shteyngart, a Financial Thriller Featuring Three Ivy League MBAs who Must Put Their Lopsided Love Triangle Aside to Snare International Terrorists

In the lush world-banking capital of Geneva, Switzerland, three friends from Harvard Business School find their lives and their work unexpectedly intertwined. Catherine and Majid are handling investments for clients with dubious pedigrees. When their friend Rafe shows up in Geneva, he claims to be just another start-up hedge fund manager. But Rafe, after a moral awakening, is now an undercover agent with the U.S. Treasury's Office of Terrorism and Financial Intelligence and he's in Geneva secretly investigating his old friends, one of whom was his former lover.

Catherine and Rafe pick up right where they left off, even though she's now seeing Majid, but she's soon in a tangle bigger than infidelity when her biggest client appears to be leading her into a trap of money laundering co-conspiracy. And then there's Majid, who would be more jealous of Rafe if he didn't have more worrisome problems, such as his biggest client shorting a Nigerian oil company stock right before a catastrophic "accident." As the CIA closes in on the terrorists themselves, Rafe, with the help of Detective Emmanuel Okoro of the Nigerian police, works to find a way to save his friends and the world at the same time.

Fast-paced and entertaining, Wealth Management shows that Emmy award-winning TV writer Edward Zuckerman is at the top of his game.
Praise For Wealth Management: A Novel…
"Zuckerman, who has won two Edgars and an Emmy for his work on Law & Order, makes his fiction debut with a gripping thriller. Zuckerman makes the intricate plot accessible for the financially illiterate while keeping readers invested in how everything plays out. —Publisher's Weekly

"A pure joy to read with a wickedly clever plot, vivid characters, and a fabulously droll sense of humor that emerges even with the novel's deadpan title. If you are a fan of Leonard or Le Carré, you are going to love Zuckerman."
—DOUGLAS PRESTON, #1 New York Times bestselling author 

"An exciting and suspenseful state-of-the-art thriller about money, terrorism, and the way we live now. Ed Zuckerman makes the leap from being a big-time TV writer into novel world as gracefully as he made the leap from investigative journalism into writing for the likes of Miami Vice and Law & Order. You'll be up late turning the pages. Highly recommended." —PETER BLAUNER, New York Times bestselling author of The Intruder and Picture in the Sand

"A polished debut novel that seamlessly blends twisty, original characters with an ingenious plot and glittering foreign locales. An international financial thriller that's camera ready for a feature film, the tale simmers with the chilling suspense of David Baldacci's best work and the wry humor of Elmore Leonard's iconic novels. The fast-paced, tangled-web plot crackles with energy and high adventure and will keep you up past your bedtime. An original voice in the thriller genre, Zuckerman moves to the head of the class." —PAUL LEVINE, author of the bestselling Jake Lassiter Series

"An intriguing, sexy, wild ride through the high-stakes world of international finance with a criminal twist, Ed Zuckerman's novel dazzles with wit, humor, and immaculate attention to detail. But the emotional heart is what stays with you: the story of love gained and lost, of betrayals and regrets, an unflinching recognition of the weaknesses, foibles, ambition, greed, and the deep-rooted need for understanding that makes us all human." —JULIE MARTIN, Humanitas
Prize–winning television producer and writer of Homicide

"Suspenseful, funny, and thrilling. Zuckerman's writing propels you through the seedy side of international banking, money laundering, and the consequences of letting morals slide for big sums of money. A must-read for fans of Succession and Billions." —LAUREN FORRY, author of They Did Bad Things
Arcade Crimewise, 9781956763058, 288pp.
Publication Date: September 20, 2022
About the Author
Edward Zuckerman began his career as a journalist, writing for Rolling Stone, Spy, the New Yorker, Harper's, Esquire, and many other magazines.  He wrote two well-reviewed nonfiction books, The Day After World War III and Small Fortunes, and then moved into writing for television dramas, including "Law & Order" (50+ episodes), "Blue Bloods," and "Law & Order: SVU."  He has won two Edgar Awards from the Mystery Writers of America and an Emmy for his work on "Law & Order."  He lives in Manhattan and Manhattan Beach, California.  Wealth Management is his first novel.