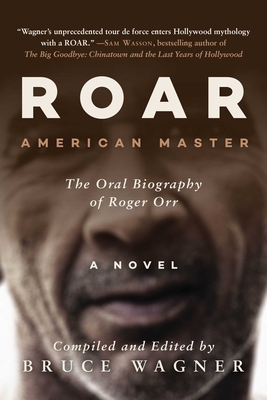 ROAR
American Master, The Oral Biography of Roger Orr
Hardcover

* Individual store prices may vary.
Description
A new novel by Hollywood's "master of satire."

The myth of an epic, public life—its triumphs and tragedies—is a particularly American obsession. ROAR is a metafictional exploration of such a life and attendant fame of an extraordinary, and completely made up, man. 

Born in Nashville in 1940 and adopted by a wealthy San Francisco couple, Roger Orr—"Roar"—became an underground stand-up comedian with a cult following while still in his teens, segueing to an acclaimed songwriter in the Sixties. In the decades that followed, his talent spanned the worlds of entertainment, from film directing and books to fine art (paintings, sculpture). His promethean energies expanded to the world of medicine; he became a dermatologist, the first to patent cadaver skin for burn victims. A spiritual seeker who returned to India throughout his life, Roar was also a voracious lover of both men and women. 

The journey of Roger Orr was a premonition of the cultural earthquakes to come. It wasn't until his 40s that Roar learned his birth mother was black and it wasn't until his early 60s when he began the hormonal treatment and surgeries that chipped away at the armor covering what he always knew was his true identity: that of a woman. 

Roar's saga is best told by a cacophony of voices—family members, critics, historians, and the famous (Meryl Streep, Amanda Gorman, Dave Chappelle, Andy Warhol)—including some heard from the grave. In ROAR, Wagner brilliantly paints a vivid picture of one man, our times, and our culture's enduring obsession with fame.
Praise For ROAR: American Master, The Oral Biography of Roger Orr…
"If it was the promise of laughter that first drew me to Wagner's work, it is his language that has kept me hooked… Marveling at his comic and linguistic gifts, at his sheer storytelling verve – his ability to handle large ensembles of characters and keep numerous narrative balls in the air while at the same time shooting flames from his mouth and balancing a naked lady on his nose – I nevertheless introduce Wagner's work to my writing students with a caution: Don't try this at home."— Sigrid Nunez 

"Bruce Wagner is Hollywood's master of satire."--Sam Wasson, author of The Big Goodbye: Chinatown and the Last Years of Hollywood

"He is a visionary posing as a farceur."--Salman Rushdie

"[Wagner's The Empty Chair] would make a fine fictional companion to the Trappist monk Thomas Merton's writings on spiritual outrage and the impossibility of solace." --Dani Shapiro, The New York Time Book Review

"Bruce Wagner writes really wonderfully about that whole milieu [of Hollywood] and its gothic vanity."--Emma Cline

"To say that [Maps to the Stars] deglamorizes the movie business is like saying that Upton Sinclair deglamorized the meat-packing industry... the medium of film allows Wagner to make his audience visualize (instead of merely imagine) the hallucinations that plague his characters." --Francine Prose

"Wagner is the James Joyce whose Dublin is Hollywood."--David Cronenberg

"[Dead Stars is] A Rabelaisian masterpiece." --Sam Sacks, The Wall Street Journal

"Bruce Wagner's stories about Hollywood are the best I've read since F. Scott Fitzgerald and Nathanael West." --Terry Southern

"Wagner writes like a wizard. His prose writhes and coruscates." --John Updike
 
Arcade, 9781956763225, 504pp.
Publication Date: November 15, 2022
About the Author
Bruce Wagner has written twelve novels and bestsellers, including the famous "Cellphone Trilogy," (I'm Losing You, I'll Let You Go and Still Holding), Dead Stars, The Empty Chair, and the PEN/Faulkner-nominated Chrysanthemum Palace. He wrote the screenplay for David Cronenberg's film Maps to the Stars, for which Julianne Moore won Best Actress at the Cannes Film Festival in 2014. In 1993, Wagner wrote and created the visionary mini-series Wild Palms for producer Oliver Stone and co-wrote (with Ullman) three seasons the acclaimed Tracey Ullman'sState of the Union. He has written essays and articles for the New York Times, Artforum and the New Yorker.