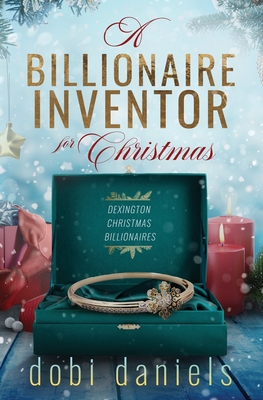 A Billionaire Inventor for Christmas
A sweet second chance Christmas billionaire romance
Paperback

* Individual store prices may vary.
Description
The billionaire inventor might just be the heart medicine the doctor ordered. The feisty waitress from out-of-town could be his second chance at love. But will they risk their hearts for love during this Christmas before it's too late?
Sarah Nash just wants to find joy in life again at Christmas after a heartbreaking relationship closed her off to love, and what better place to rediscover it than with a brief vacation in her hometown Dexington, where she'd spent the happiest times of her life.
But she didn't plan on bumping into Phillip Dexington-billionaire inventor, the town's most eligible bachelor, and her first kiss.
Healthcare billionaire and inventor Phillip Dexington has plans. The new medical device he's worked so hard on is launching in the next few weeks and has to be a success, no matter what. Love entanglements were especially off the table this time around.
Then he runs into Sarah, the one who stole his heart and disappeared many years ago. As his heart races, his mind tells him to focus and "get it together." There's too much at stake with the product launch to allow any distractions.
When they're forced to work together on a Christmas project right before Phillip's product launch, will they give love one more chance before Sarah leaves again?
A BILLIONAIRE INVENTOR FOR CHRISTMAS, a sweet second chance Christmas billionaire romance, is the first book in the Dexington Christmas Billionaires series.
Author's Note: If you like sweet page-turning heartwarming romance filled with swoon-worthy heroes and unexpected twists, you'll love A BILLIONAIRE INVENTOR FOR CHRISTMAS.
Books in the Dexington Christmas Billionaires series:
A Billionaire Inventor for Christmas
A Billionaire Butler for Christmas
A Billionaire Dentist for Christmas
Books in the Dexington Doctor Billionaires series:
Loving the Billionaire Heir Doc
Loving the Billionaire Owner Doc
Loving the Billionaire Army Doc
Loving the Billionaire Boss Doc
Loving the Billionaire Cowboy Doc
Books in A Cowboy Loves the Doctor series:
A Doctor Second Chance for the Cowboy (prequel)
A Doctor Blind Date for the Cowboy
A Doctor Enemy for the Cowboy
A Doctor Billionaire for the Cowboy
Luxhaven Publishing, 9781958987018, 222pp.
Publication Date: November 20, 2018