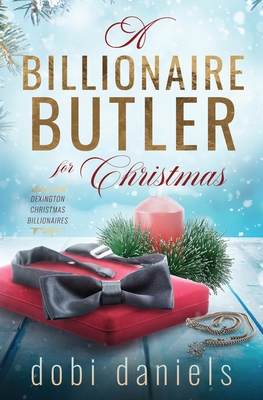 A Billionaire Butler for Christmas
A sweet enemies-to-lovers Christmas billionaire romance
Paperback

* Individual store prices may vary.
Description
Can the resilient survivor's embarrassing crash into him open the heart of this Christmas-allergic billionaire butler to love?
For Billionaire and Dexington family butler Geoffrey Hart, the Christmas season has always meant bad luck and losing loved ones, so when Emily Roth crashes into him at the boutique shop where she works, Geoffrey goes his own way, even though he feels drawn to her.
Emily Roth has survived an abusive relationship and is well on her way to finding her feet and living again. Christmas especially holds terrible memories for her. When the accidental crash into the handsome butler gets her fired at Christmastime, having unkind thoughts against him is an understatement.
As the situation deteriorates, and Geoffrey tries to make amends, he soon finds out there's more to Emily than meets the eye
With sparks flying between them, can they overcome their differences and break the Christmas jinx for their chance at a happily ever after?
A BILLIONAIRE BUTLER FOR CHRISTMAS, a sweet enemies-to-lovers Christmas billionaire romance, is the second book in the Dexington Christmas Billionaires series.
Author's Note: If you like sweet page-turning heartwarming romance filled with swoon-worthy heroes and unexpected twists, you'll love A BILLIONAIRE BUTLER FOR CHRISTMAS.
Books in the Dexington Christmas Billionaires series:
A Billionaire Inventor for Christmas
A Billionaire Butler for Christmas
A Billionaire Dentist for Christmas
Books in the Dexington Doctor Billionaires series:
Loving the Billionaire Heir Doc
Loving the Billionaire Owner Doc
Loving the Billionaire Army Doc
Loving the Billionaire Boss Doc
Loving the Billionaire Cowboy Doc
Books in A Cowboy Loves the Doctor series:
A Doctor Second Chance for the Cowboy (prequel)
A Doctor Blind Date for the Cowboy
A Doctor Enemy for the Cowboy
A Doctor Billionaire for the Cowboy
Luxhaven Publishing, 9781958987025, 244pp.
Publication Date: December 3, 2019