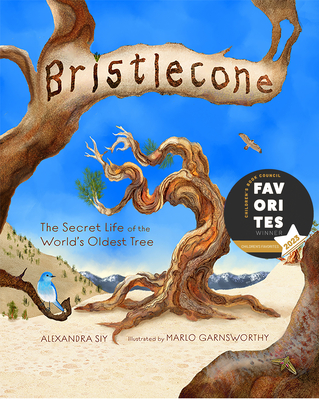 Bristlecone
The Secret Life of the World's Oldest Tree
Hardcover

* Individual store prices may vary.
Description
Interweaving lovely, meticulously drawn pictures with a story line that spans 5,000 years, Alexandra Siy invites young naturalists to explore the secrets of the world's oldest trees--secrets of the earth's climate, recorded in their tree rings, and secrets of the bristlecones' resilience, as a species that lives in the harshest of environments.
Living for more than five thousand years, ancient bristlecone pines are the oldest trees on Earth.
Recorded in their rings are "secrets"--scientific evidence of a changing planet. A volcano erupts in 2036 BC. In 775, a storm explodes on the sun. Lightning strikes in 1122. And during the 20th century, the temperature increases dramatically. What is the secret to the bristlecone's exceptionally long life? Alexandra Siy's lyrical text, paired with Marlo Garnsworthy's meticulously researched mixed media paintings, reveals the life cycle of the mysterious ancient bristlecone pine. "Still growing, safe and strong in its place in the sun, the bristlecone's secrets are waiting to be discovered by anyone who can read its rings."
Web of Life Children's Books, 9781970039030
Publication Date: June 19, 2022
About the Author
Alexandra Sky is the author of more than 20 children's books. Her books have won the following accolades: NSTA/CBC Outstanding Science Trade Book; Junior Library Guild Selection; Orbis Pictus Honor Book; AAAS/ Subaru Science Books and Films Prize; NSTA BEST STEM Book Award; starred reviews from School Library Journal, Booklist and Kirkus.