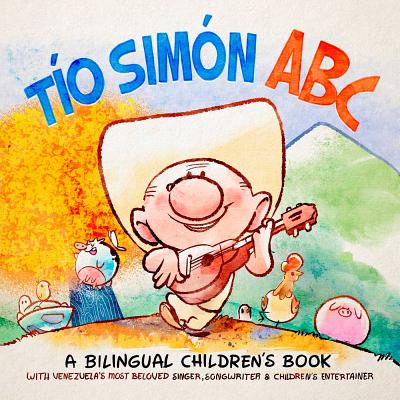 Tío Simón ABC (Hardcover)
Fantoons, 9781970047066, 60pp.
Publication Date: October 15, 2019
* Individual store prices may vary.
Description
Bilingual ABC book using images from Venezuela and Latin-American folklore featuring beloved Venezuelan personality Tío Simón!

In this beautiful book, Tío Simón—beloved Venezuelan folk musician and children's TV personality—will teach you words of every letter in both English and Spanish! Children will be able to learn with Tío Simón about his home, Venezuela, as well as Latin American food, places and nature with a beautiful full-color illustration on every page that will spark joy in families of every kind.

For every book sold, the publisher will donate $1 to Venezuelan children charities.

Simón Díaz, a.k.a. Tío Simón, has been a cultural fixture for Venezuelan and Latin culture worldwide from the 1960s. His children's TV show, Contesta por Tío Simón, aired for a decade, and its messages and popularity earned him the unofficial title of "the Mr. Rogers of Venezuela."His music has been covered more than 200 times in a dozen languages, and Diaz is a known influence on artists such as Julio Iglesias, Plácido Domingo, the famous Spanish director Pedro Almodóvar and The Gipsy Kings. He was awarded a lifetime achievement Grammy from the Latin Grammys in 2008.

Features a foreword about his life and legacy by Tío Simón's (Simón Díaz) daughter Bettsimar Díaz.
About the Author
David Calcano is the creative director of Fantoons, an animation studio based in Los Angeles. David was born in Caracas, Venezuela and has been watching cartoons ever since he was inside his mom's belly. As an adult, he moved to the UK where he worked as a systems engineer until he dropped his career to pursue his true dream: to build an animation studio, create cartoons and publish books that combine music and creative art. We are honored to work with some of the best companies and artists around the world: Disney, Rush, Frank Zappa, Steve Martin, Poison, Brian Wilson of the Beach Boys, Mr. Big, Universal Music, Ole, amongst many others! David's motto comes from Walt Disney: "If you can dream it, you can do it".