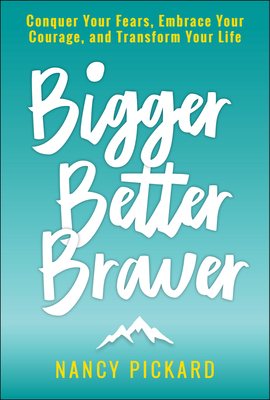 Bigger Better Braver
Paperback

* Individual store prices may vary.
Description
In Bigger, Better, Braver, master integrative life coach Nancy Pickard challenges us with these life-altering questions:

•Is there something you'd love to do but haven't found the courage?
•Do you want to give yourself over to the fullest possible experience of living?
•Do you want to take a leap toward a bigger, better, braver life?

Bigger Better Braver is a proven, step-by-step guide for uncovering and putting into action the vision we each have in our hearts to live the life we are meant to lead. Provided with clarity and enhanced with inspirational client and personal stories, it shows readers how to get unstuck from old ways of behaving and take bold steps toward something new and larger in their lives.

The book is a journey in itself, as Nancy lays out time-tested tools to identify, face, and overcome shadow beliefs from childhood that hold us back, get free of the limits of our comfort zone, come to terms with and cultivate fear as a driving force for change, and discover the courage we already have to take bold steps into the future. She teaches how to be more present, use our intuition, and get out from under the daily restrictions of autopilot. She reveals strategies to stay the course, maintain low attachment to outcome, receive feedback, stay disciplined and responsible to ourselves, and learn what it means to practice acceptance and surrender.

Ms. Pickard is testimony to her proven methods. She reinvented herself as a master life coach in her second half and at the age of 61, climbed Mount Kilimanjaro, experiences and achievements that recalibrated her way of being and became her vision for a bigger life.

Not everyone must climb a mountain to live larger. As the book well shows, each of our versions of a bigger life can be anything that brings elation, accomplishment, fulfillment, and connection with the spirit of who we are. Bigger Better Braver provides the pathway to uncover our personal vision of what living bigger means and opens the door for a major life change.
Praise For Bigger Better Braver…
"A highly personal series of reflections explores ways to improve your life.… she deftly describes various tips, she explains that, in all cases, the object is to live the best version of a person's "big" life.… A warmly written… pep talk for living your "big" life now." —Kirkus Reviews
"Motivational and hopeful, Nancy Pickard's
Bigger Better Braver
is a self-help book for those who think that it's too late to change.… The book's progression is logical, beginning with why it's even worth it to work toward such change and then suggesting means of uncovering the unacknowledged beliefs that guide people's decisions…
a self-help companion designed to unearth hope and help it to grow.
" —
Foreword Reviews
"
Bigger, Better, Braver
is all about stepping out of one's comfort zone to embrace life, and encourages a big leap from set patterns in life to taking on new challenges. It's a top pick for readers who want to make this move, but who don't really know how to do so.… a
highly recommended
, integrative approach that requires that its readers approach life differently." —D. Donovan, Senior Reviewer,
Midwest Book Review
"Using her own pivotal experience of climbing Kilimanjaro at 61 years old as the heartbeat of [Bigger Better Braver], Nancy Pickard expertly guides us to explore "our own Kilimanjaro." Through client stories and enlivening inner-exercises that magnificently illuminate the path of the most sacred journey we will every take—to self-love and self-worth—this potent book is a compass I will return to again and again." —Nancy Levin, author of Setting Boundaries Will Set You Free
 
"Nancy Pickard's extensive training, accompanied by her powerful personal experiences, make this book a must-read for anyone looking to live a
Bigger, Better, Braver
life. Her guidance to dig deeper, discover immense love for yourself, and actionable steps to conquer your fears will take you from 'playing small' to living big and beautifully!" —Gina DeVee, author of
The Audacity to be Queen
and founder of
Divine Living
"Reading
Bigger, Better, Braver
is like spending time with your greatest cheerleader.
Truly motivational
, Nancy Pickard shows us how to override our fears, bust through our excuses, and go for our dreams.
Filled with relatable stories, tried-and-true teachings, tools, tips, as well as useful exercises and meditations
, this book supports you in stepping out of your old definition of self and re-thinking your next chapter." —Kelley Kosow, author of
The Integrity Advantage
, Speaker and CEO of The Ford Institute  
"They say there's nothing new under the sun . .. . but what if you found just what you needed for a bigger and braver life in one place?
Nancy's step-by-step approach to change
provides the puzzle pieces, in the order you need them, to create the inner foundation for successful outer change. May you
use this process to create the better story that your life is asking
, and may that new story equip you to serve the world in the way that only you can." —Gail Larsen, Author of
Transformational Speaking: If you Want to Change the World, Tell a Better Story
"
If you want more out of life, Nancy's book is laying an inspiring path to follow. 
Chock full of examples, practical steps, exercises and cutting edge techniques, she helps you discover your life's calling and coaches you on
how to overcome obstacles and pitfalls on your journey to follow your bliss
. Her enthusiasm and drive will give you the confidence to take your own leap to make your life happen and manifest what is already inside your heart. It's what you were born to be.
Highly recommended!
" —Teshna Beaulieu D.C., author of
Fit for Love
"
Bigger Better Braver
is exactly that! It's a promise kept because Nancy authentically embodies what she presents and backs up her philosophy with
ideas and ways to activate this in your own life
. I especially benefitted from examining where I'm on autopilot and checking in on my habits! Perfect timing!" —Becky Robbins, former VP, artist and creator of
Everything Becky
"A seasoned life guide, Nancy Pickard helps us see around the blind corners of our personal Kilimanjaro, clear the disempowering brush of our childhoods, and step up to our bigger destiny, all in an
actionable workbook of enabling insights, proven tools, and touching stories.
Always vulnerable in sharing her own heart challenges, Nancy never stops encouraging us to reach for a
fuller life and deeper purpose
." —Steve Engle, CEO
"
Bigger Better Braver
captures the fullness of the miracle I experienced working with Nancy Pickard as life coach. She masterfully unraveled the complex puzzle of emotions and disappointments that lurked beneath the surface of my personal façade. In many ways, because of her coaching,
I feel I owe her my life and the happiness I now enjoy.
If you want your world to change in positive ways, read this book. It's a true blessing." —Kevin Haslebacher, CEO
"Nancy is a fabulous coach that supports you in getting off the hamster wheel to take actionable steps in creating the life you want to live yet can't seem to manifest.
She plants seeds of accountability
that echo in your ears post-sessions. She points out where you are stuck and encourages you to make lifelong changes.
She helped me find the courage to leave behind a job that wasn't serving me and create the career of my dreams.
She rocks and I recommenced her to everyone who wants to live a bigger, Better, Braver life." —Crystal Tejera
"Nancy Pickard has written an incredible book. She is the perfect teacher; she has been there. Working with her as a Life coach has been instrumental in my successful navigation through Divorce and Raising Teenagers. She has helped me approach and handle my life's challenges in such a helpful and productive way.
I am more positive, mindful, and peaceful thanks to her. 
Things I admire most about her are her focus... she focuses daily on being better, trying harder, achieving something. I've never met anyone quite as focused as her. She has incredible integrity- always doing what's morally and ethically correct.
She is brave and fearless
... she likes to take the path of most resistance in everything she does." —Linda Krinsky, Miami, FL
"As you read
Bigger Better Braver
it's no surprise that Nancy presents a clear path, and 'tools you up", to take the hike of your life.
Her direct and relatable style, the stories she shares, and her step by step approach that takes you from "I can't" to "I will" is powerful.
She has a way of taking the intimidation out of going for your best life, and seeing everything in your path as an invitation to a more expansive you.
It's a great and effortless read.
" —Linda Yeazel, Master Life Coach
"
Nancy is a wise and thoughtful coach.
She guided me through professional and personal challenges with compassion. She demonstrated patience while pushing me to better understand myself and to take action to improve my situation. Her commitment and passion for her work and the process makes her a highly effective coach and I highly recommend her." —Wendy Sherman, Literary Agent, NYC
"Thanks to Nancy Pickard,
we can all be inspired and supported to live a Bigger, Better, Braver life!
Nancy shares her personal Kilimanjaro while encouraging us to find our own. You will love Nancy's insights and positive energy." —Lauri Boyer, Life Coach
"
Please read this book!
Nancy Pickard has written an incredible book. She thoughtfully laid out an actionable plan that anyone can do.
I love this book and am sharing it with everyone I know who wants to live a Bigger, Better, Braver life.
" —Rev. Laura, Master Life Coach, Trainer, Contributing Author for
Women Who Rise
"Does your life need some basic repairs? Perhaps a complete tear-down and rebuild? Nancy provides a toolkit and simple do-able blueprints to help you get the job done! Be Bigger Braver and Better every day!" —Thomas Crum, author of The Magic of Conflict, Journey to Center and Three Deep Breaths 
Top Reads Publishing, LLC, 9781970107128, 200pp.
Publication Date: July 14, 2020
About the Author
Nancy Pickard is a Certified Integrative Coach through The Ford Institute for Transformational Training. She is certified as a Breakthrough Shadow Coach, Empowered Parent Coach, Courage Coaching, Healing Your Heart Coaching, Leadership Coaching and Holistic Lifestyle Coaching. Before becoming a life coach, she founded and owned a personal training gym called Tight Ends, which she operated by herself for sixteen years. She knows what it takes to help people achieve big goals. Nancy splits her time between Aspen, Colorado and Larkspur, California.
or
Not Currently Available for Direct Purchase