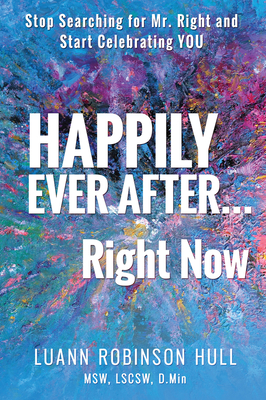 Happily Ever After ... Right Now
Stop Searching for Mr. Right and Start Celebrating YOU
Paperback

* Individual store prices may vary.
Other Editions of This Title:
Paperback (1/1/2011)
Paperback (10/20/2015)
Description
What instinctive tendencies etched into our subconscious minds drive us to behave in ways that cause us pain and suffering? How can we transcend those tendencies? Why do educated women repeatedly revert to outdated patterns of relating to men—even as ancient patriarchal systems (and the fairy tales perpetuating them) are clearly crumbling?

Through the author's ongoing quest to delve into wide-ranging explorations of body, mind, and spirit—discovering along the way that many theories, practices, and neuroscience itself have been evolving in fascinating ways, these concepts and their constant interplay offer the clues that ultimately answer these questions.

Carefully researched, Happily Ever After... Right Now uniquely combines spiritual, scientific, and practical information for charting a new course towards confidence, empowerment, self-love, and joy. Written with spirit and spunk Luann Robinson Hull interweaves her personal stories while providing a three-part-framework of education, awareness, and transformation for how to live a happy life today, not someday in the future.

Happily Ever After … Right Now guides us to explore our thoughts and behaviors with soulful inquiries, meditations, and exploratory exercises in each chapter, and reveals the source of relationship challenges by showing step-by-step how to unravel the patterns, habits, and cycles that have kept us from living our best life, whether or not we are in a committed relationship.

Now ask yourself, are you ready to put fairy tales behind you and unleash your potential to thrive across all areas of your life as the person you have always desired to be? Then let's get started!

Editorial Review

"This book of Luann Robinson Hull's is a stunning hit between the eyes. She has complete command of her subject matter, expertly navigating us through waters we probably didn't even know were treacherous. Not once does she lose sight of her destiny using feminine power and finesse to enlighten us of this mysterious abyss called "relationship." Though her target audience may appear to be women, Happily Ever After...Right Now provided me with insight and clarity into something I gave up trying to comprehend long ago. She reminded me not only of what I seek in a partner but helped me set off on the journey of reclaiming the man I have always wanted to be." —Branden Blinn, The Branden Blinn Media Group
Top Reads Publishing, LLC, 9781970107142, 300pp.
Publication Date: August 18, 2020
About the Author
Luann Robinson Hull is a trailblazing leader in the field of human development. With a Masters in Clinical Social Work, and a Doctorate in Ministry, she brings a powerfully diverse background to the world of personal growth and well-being. Her 25-year career, which includes researching both neuroscience and spiritual practices that help to transcend maladaptive patterns of behavior, allows her to be a reliable and definitive expert on how to unravel the ravages of the mind.

Luann is a motivational speaker and professional group facilitator. She resides in the mountains of Colorado where she hikes year-round during which she is often in a state of curiosity—inspired by her favorite philosopher, Henry David Thoreau. He poses the question: "Why can't we live more like nature and not be thrown off by every nutshell and mosquito wing?"