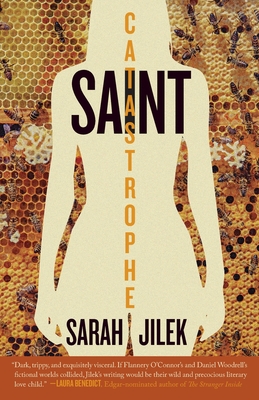 Saint Catastrophe
Paperback

* Individual store prices may vary.
Description
What do you do when a cult kicks you out?
All Beth Riddle wanted was a family, but having failed to rescue her childhood friend from the clutches of a dangerous cult leader, the twenty-something graduate student must gather her own legion of devotees to take revenge. Beth's return to her childhood home sparks a war between the cult, a powerful local family, and a violent biker gang. When she flees, the armed conflict only follows, luring her back to her own destructive destiny. A darkly hallucinogenic modern noir romp through sex, crime, and comedy.
Sarah Jilek has always been fascinated with religion and with cults-specifically with how charismatic leaders gain power and attract their follower's total devotion. By the end of her stories, her greatest hope is that readers have cried, laughed, vomited, and secretly masturbated. Most importantly, that they've felt true empathy for all the weirdos and freaks they've encountered. She writes everything from myth to slasher fiction, but especially tales in which women gain power-over each other, over men, or, in the case of Saint Catastrophe, over entire legions of adoring fanatics. A decent shot with a Glock 9mm, growing up a practicing Catholic has been the single most definitive experience in her life. In 2020, Sarah received her MFA from Southern Illinois University.
Southern Fried Karma LLC, 9781970137040, 344pp.
Publication Date: October 13, 2020