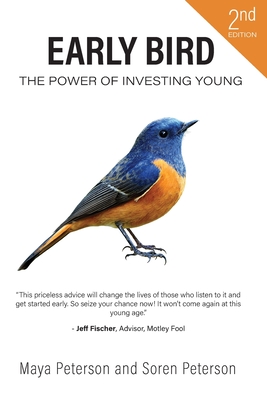 Early Bird
The Power of Investing Young
Paperback

* Individual store prices may vary.
Description
All New Second Edition Nov. 2021 - The only book written for young investors by young investors. Accessible and packed with real-world examples and concrete steps, Early Bird gets a refresh and adds co-author Soren Peterson's relatable new chapter "How to retire from a summer job" among others. It also includes interviews from famous decision strategist Annie Duke, investing advice from microcap investor Ian Cassel and bank expert Emily McCormick and an inspiring Foreword from Todd Wenning.
"Maya Peterson has a gift of discernment, an eye for leadership and a desire to learn."
- Lawrence Cunningham & Stephanie Cuba, authors of Margin of Trust: The Berkshire Business Model
"Maya Peterson has written a book that shows all young people that the time to invest is now, and the amount to invest is anything you can afford. You can begin with as little as $100, just as she did, because the mere act of starting early will help to ensure your success. Time is your best friend, and you have a lot of it. Investing your savings in the stocks of growing companies that you know and love is the best way to grow real wealth, and by starting early, you could see financial freedom by a young age. Maya covers why you shouldn't be afraid, why you should start now, and the behaviors you need to invest successfully. This priceless advice will change the lives of those who listen to it and get started early. So seize your chance now It won't come again at this young age. " -Jeff Fischer, Advisor, Motley Fool Pro
Investing takes time, so why are the people with the most time not investing? That needs to change. This is the issue Early Bird is here to solve.
Investing comes with misconceptions and fears, which results in a lack of enthusiasm from teenagers. The stock market can seem like a scary, almost casino-like place, but it's far from that. With knowledge and research, most investors can get some baggers
Early Bird teaches the reader what goes into a good company, if they're ethical, what numbers to look for, how to open an account, which company has the competitive advantage, and more. This book gives readers easy to follow directions so they can do it on their own. Early Bird inspires us with innovators and leaders in the industry like rule breaker David Gardner and Socially responsible investing pioneer Alyce Lomax, written for a young person's perspective.
Compounding Snowballs, 9781973235439, 230pp.
Publication Date: February 21, 2018