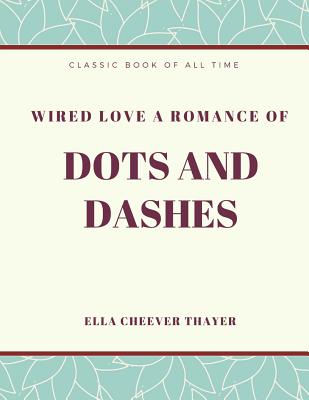 Wired Love a Romance of Dots and Dashes
Paperback

* Individual store prices may vary.
Other Editions of This Title:
Paperback (10/28/2017)
Paperback (1/13/2013)
Paperback (6/21/2017)
Hardcover (1/15/2013)
Paperback (6/24/2017)
Description
Wired Love a Romance of Dots and Dashes Wired Love a Romance of Dots and Dashes by Ella Cheever Thayer, is an enchanting book about a love affair between two telegraphers in America, code names 'N' and 'C'. The couple fall victim to the dangers that internet chat-room users are faced with today: they begin to fall for the stranger on the other end of the line without knowing what they look like, who they are, or anything much about them. For the first few chapters, 'N', known as Nattie, has no idea if the grapher on the end of the line is a man or a woman. She leads a double life - her 'online' life and her humdrum normal life. She has her real, 'visible' friends, and this increasingly special 'invisible' friend. The humor in this novel is touching and farcical at times, and I found this to be one of the most charming aspects of the book. Charming is the perfect word for it as you fall in love with the characters and delight in the myriad of misunderstanding that makes this novel so highly cinematic.
Createspace Independent Publishing Platform, 9781973856382, 96pp.
Publication Date: July 27, 2017