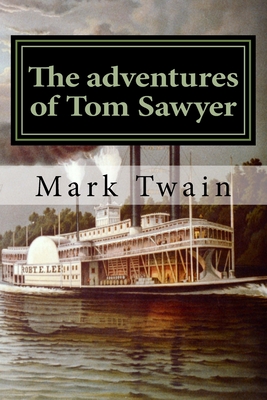 The adventures of Tom Sawyer
Classique Anglais
Paperback

* Individual store prices may vary.
Other Editions of This Title:
Digital Audiobook (5/31/2000)
Digital Audiobook (12/31/2006)
Digital Audiobook (12/15/1999)
Digital Audiobook (7/27/2016)
Digital Audiobook (1/3/2005)
Digital Audiobook (3/30/2008)
Paperback (4/14/2014)
Paperback (9/10/2008)
Paperback (1/31/2018)
Paperback (2/13/2020)
Paperback (5/25/2019)
Paperback (11/27/2016)
Paperback (6/3/2016)
Paperback (9/6/2018)
Paperback (4/4/2018)
Paperback (8/26/2018)
Description
Tom Sawyer lives with his Aunt Polly and his half-brother Sid. He skips school to swim and is made to whitewash the fence the next day as punishment. He cleverly persuades his friends to trade him small treasures for the privilege of doing his work. Tom falls in love with Becky Thatcher, a new girl in town, and persuades her to get "engaged" by kissing him. But their romance collapses when she learns Tom has been "engaged" previously to Amy Lawrence. Shortly after Becky shuns him, he accompanies Huckleberry Finn to the graveyard at night, where they witness a trio of body snatchers, Dr. Robinson, Muff Potter, and Injun Joe, getting into a fight.
Createspace Independent Publishing Platform, 9781973890195, 196pp.
Publication Date: July 26, 2017