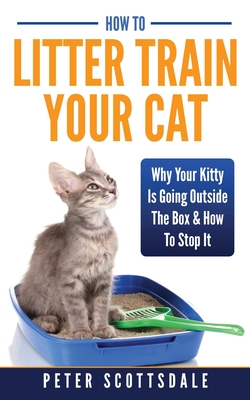 How To Litter Train Your Cat (Paperback)
Why Your Kitty Is Going Outside The Box & How To Stop It
Createspace Independent Publishing Platform, 9781974035663, 80pp.
Publication Date: July 28, 2017
* Individual store prices may vary.
Description
Smelly House?
Is your cat avoiding the litter box?
Do you want to stop kitty from soiling the rug, bed or wherever the feline is going? This material can help your cat by getting your furry friend back to using the litter box. By using this easy process, you too can get results. But first you need to find the reason it keeps happening. Let me tell you a story.
Scottie's Story
by Peter Scottsdale
How It Started
One night, I lay in my bed with Scottie by my feet. The door was closed and I was dead tired. So I decided to go to sleep without opening the door so my kitty could get out. And sleep I did. I woke up a few hours later to Scottie peeing on my left hip. I snapped out of bed and had to spend a good part of the night cleaning myself off and changing the sheets.
Problem Solved
I realized he was telling me something - Do Not lock me in a room with no litter box. So, I never kept him in my bedroom with the door closed and he never went on me again. But his peeing problems weren't over. Let me explain.
Not On Me This Time
After my son moved in with me in my bi-level, he brought his two cats, Poof and Puff, with him. He stayed with them in a basement bedroom, and Poof commandeered the stairs as her territory. Scottie started peeing on my bed. What was causing it this time? The fact that new cats were in the house or something else?
Problem Solved Again
After watching Scottie approach the stairs and Poof keeping him from getting down the stairs, I recognized my cat couldn't get to the litter boxes in the basement. Realizing Poof wasn't going to give up her territory, I bought a covered litter box and put it in the upstairs bathroom. This worked. Scottie stopped going on my bed...until...
Not Again
When I put the litter box together, I left off the swinging door so Scottie could get used to using the new box. And he did. After a week, I put the door on the litter box and showed my Tabby how to used it. However, he resorted to using my bed as a toilet - this time by doing number one & two on the sheets. What now?
Problem Solved for a Third Time
This time it was the swinging door. He did not like that door. I took it off and Scottie has not used my bed as his private bathroom since.
Find the Solution
If your cat is no longer using the box, you need to find out why and then solve the problem. Sometimes the reason escapes us, as kitty won't tell us. Consequently, you'll need to move onto a solution and How To Litter Train Your Cat can help.
You Will Discover:
- What you need to do to get your cat using the litter box.
- The stuff you need for an attractive cat box - attractive to your feline, that is.
- What to do after a medical episode.
- The right kind of litter for you and your cat.
- How to clean soiled areas of your home so they don't smell anymore.
- Why your feline stopped using the litter box.
- Solutions to get your puss back in the box.
- How to litter train a young kitten.
- How to get a stray or feral cat to use the litter box.
Plus Bonuses:
- How to stop your cat from spraying in the house.
- How to keep your dog from eating cat poop.
And Much More
Take a look inside. If it's what you need, click the "Buy now" button.
About the Author
A cat lover from an early age, Peter Scottsdale wrote his first cat tale, "The Cat and the Dog," in a grade three creative writing exercise - the story of a cat and a dog lost in the woods, and the police shooting the dog for some reason. Peter drew inspiration for the story from Disney's The Incredible Journey. Inspired by such books as Hardy Boys Mysteries, Marvel Comics and Mythology by Edith Hamilton, Scottsdale wrote several published short stories with his grade nine English teacher. Then life happened. Scottsdale stopped writing, only scribbling bits of story every so often. A family came along which turned into single parenthood. He raised his kids and wrote here-and-there. Throughout his life, cats have been a welcome and influencing presence. From Tia (a Siamese) to Booties (a Tabby with White) to Rusty (an orange boy with little ears) to Sam the Siamese, Peter has loved all his felines (and still does). He's loved all his cats so much so he started to write about them. They have inspired and delighted him to create cat stories and to find feline facts for his books. Cat lover turned author, Peter Scottsdale published his first book, 365 Fascinating Facts You Didn't Know About Your Cat, in 2012. He followed that with "The Christmas Cat" and more cat books both in print and as ebooks - all available on Amazon. An English Major, Scottsdale graduated from Medicine Hat College with an Associate of Arts Diploma in 1995. He continues to research our furry felines and write cat fiction and non-fiction and hopes fellow kitty-cat people will enjoy his work. Currently, he resides in Medicine Hat, AB with his two cats: Tanzy (the feisty feline) and Alley (the mischief maker).