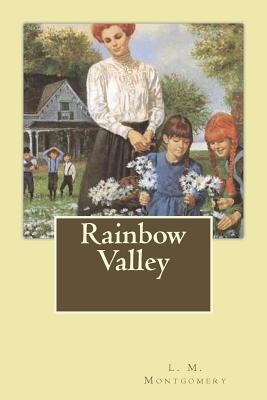 Rainbow Valley (Paperback)
Createspace Independent Publishing Platform, 9781974555420, 336pp.
Publication Date: August 14, 2017
Other Editions of This Title:
Digital Audiobook (2/16/2011)
Paperback (5/5/2015)
Paperback (10/17/2019)
Paperback (5/12/2019)
Paperback (5/19/2018)
Paperback (11/17/2014)
Paperback (9/27/2018)
Paperback (4/13/2017)
Paperback (9/11/2017)
Paperback (6/29/2017)
Paperback (10/7/2018)
Paperback (7/16/2019)
Paperback (4/12/2019)
Paperback (8/23/2014)
Paperback (3/5/2018)
Paperback (11/12/2019)
Paperback (3/3/2019)
* Individual store prices may vary.
Description
Rainbow Valley is the seventh book in the Anne of Green Gables series by L. M. Montgomery. Unlike the first six, this book centres on Anne and Gilbert's children (Jem, Walter, Nan and Di mainly) and their friends, the four Meredith children (Jerry, Faith, Una and Carl) as well as a runaway named Mary Vance. Anne Shirley is grown up, has married her beloved Gilbert, and is the mother of six mischievous children. These boys and girls discover a special place all their own, but they never dream of what will will happen when a strange family moves into an old mansion nearby. The Meredith clan is two boys and two girls---and a runaway named Mary Vance. Soon the Merediths join Anne's children in their private hideout, intent on carrying out their plans to save Mary from the orphanage, to help the lonely minister find happiness, and to keep a pet rooster from the soup pot. There's always an adventure brewing in the sun-dappled world of Rainbow Valley.