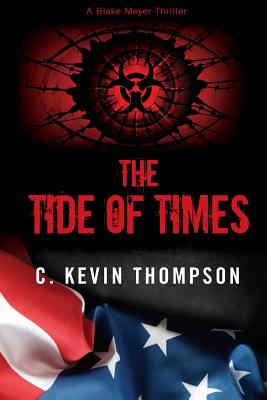 The Tide of Times (Paperback)
Createspace Independent Publishing Platform, 9781974610983, 318pp.
Publication Date: October 23, 2017
* Individual store prices may vary.
Description
A Perverse Tale. A Precarious Truth. A Personal Tribulation.
Supervisory Special Agent Blake Meyer is at an impasse. Bound and beaten in a dilapidated warehouse halfway around the world, Blake finds himself listening to an unbelievable story. Right and wrong warp into a despicable clash of ideologies. Life quickly becomes neither black nor white. Nor is it red, white, and blue any longer.
Every second brings the contagion's release closer, promising to drag the United States into the Dark Ages. Tens of millions could be dead within months.
Every moment adds miles and hours to the expanding gulf between him and his family. What is he to believe? Who is he to trust?
About the Author
C. Kevin Thompson is an ordained minister, having served churches in New York, Mississippi, Texas, and Iowa. He holds a B.A. in Bible from Houghton College (New York), an M.A. in Christian Studies from Wesley Biblical Seminary (Mississippi), and an M. Ed. in Educational Leadership from National-Louis University (Illinois). Kevin is married to Cindy, his wonderful wife of over 35 years, and they have three daughters, two sons-in-law, and five grandchildren. He speaks in churches on occasion, presently works as an assistant principal in a local school district, and plays the drums. He is a huge fan of The Blacklist, Blue Bloods, 24, and Criminal Minds, loves anything to do with Star Trek, and is a Sherlock Holmes fanatic. In addition to the Blake Meyer Thriller Series, his previously published works include his debut novel, The Serpent's Grasp, winner of the Blue Ridge Mountains Christian Writers Conference 2013 Selah Award for the First Fiction Category. Look for its re-release soon! Additionally, Kevin is a regular contributor for Seriously Write, a Christian blog for writers. He also writes a blog twice a year for American Christian Fiction Writers (ACFW) and contributes articles from time to time for More to Life Magazine (Munce Group). He is a member of ACFW, the Christian Authors Network (CAN), and Word Weavers International (presently serving as a chapter president). You can visit Kevin @ www.ckevinthompson.com, and while there, don't forget to join his mailing list to stay updated on his latest publications!