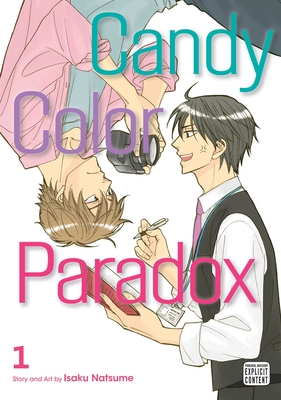 Candy Color Paradox, Vol. 1
Paperback

* Individual store prices may vary.
Other Editions of This Title:
Paperback (6/11/2019)
Paperback (12/10/2019)
Paperback (9/10/2019)
Paperback (4/13/2021)
Description
Reporter Onoe and photographer Kaburagi constantly bicker and argue on their stakeouts, but will their antagonistic behavior paradoxically evolve into something sweeter?

Satoshi Onoe, a reporter for a weekly magazine, has a new stakeout partner, and he's anything but thrilled about it. Photographer Motoharu Kaburagi's unconventional reporting methods and overall bad attitude are enough to drive Onoe insane. But the more the two work together, the closer they get.

Satoshi Onoe takes pride in the good writing and ethical reporting he does in his job at a weekly magazine. But when the stakeout teams are shuffled around, he ends up being paired up with Motoharu Kaburagi, an ill-mannered photographer who is nothing but trouble. Onoe despises Kaburagi's haphazard and unethical reporting methods, and the two bicker constantly. But Onoe's annoyance begins to shift as he spends more time with Kaburagi, and his feelings turn a bit sweeter…
SuBLime, 9781974704934, 208pp.
Publication Date: March 12, 2019
About the Author
Isaku Natsume's previous works include False Memories, Ginger Honey, Devil's Honey, Dash!, Tight Rope, and her debut title, No Color. She has published doujinshi (independent comics) under the circle names "139" and "Cheke-rara." Born in July, she's a Leo with an O blood type.