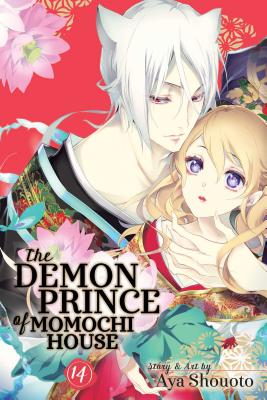 The Demon Prince of Momochi House, Vol. 14 (Paperback)
VIZ Media LLC, 9781974708840, 172pp.
Publication Date: September 3, 2019
Other Editions of This Title:
Paperback (10/6/2015)
Paperback (3/6/2018)
Paperback (1/5/2016)
Paperback (7/7/2015)
Paperback (4/5/2016)
Paperback (3/3/2020)
* Individual store prices may vary.
Description
Himari Momochi inherits a mysterious house that comes with its own gorgeous demon guardian.

On her sixteenth birthday, orphan Himari Momochi inherits her ancestral estate that she's never seen. Momochi House exists on the barrier between the human and spiritual realms, and Himari is meant to act as guardian between the two worlds. But on the day she moves in, she finds three handsome squatters already living in the house, and one seems to have already taken over her role!

Himari Momochi inherits Momochi House, an estate which exists on the barrier between the human and spiritual realms. Aoi has been kidnapped by Kasha. In order to save him, Himari takes Hakka and barges into Kasha's mansion in the spiritual realm. Everyone there is making preparations for a wedding, but just who is getting married?!
About the Author
Aya Shouoto was born on December 25. Her hobbies are traveling, staying at hotels, sewing and daydreaming. She currently lives in Tokyo and enjoys listening to J-pop anime theme songs while she works.