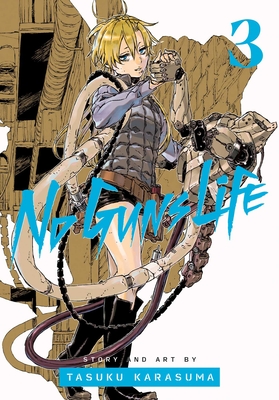 No Guns Life, Vol. 3 (Paperback)
VIZ Media LLC, 9781974710478, 232pp.
Publication Date: January 21, 2020
Other Editions of This Title:
Paperback (12/15/2020)
Paperback (7/21/2020)
Paperback (9/15/2020)
Paperback (11/19/2019)
Paperback (5/19/2020)
Paperback (3/17/2020)
Paperback (9/17/2019)
Paperback (3/16/2021)
* Individual store prices may vary.
Description
Ex-soldier Juzo Inui has one question—who turned him into a cyborg and erased his memories?

After the war, cyborg soldiers known as the Extended were discharged. Juzo Inui is one of them, a man whose body was transformed, his head replaced with a giant gun. With no memory of his previous life—or who replaced his head and why—Inui now scratches out a living in the dark streets of the city as a Resolver, taking on cases involving the Extended.

Juzo manages to captured the fugitive noncompliant Extended, Gondry, and doing so brings him closer to the truth about what happened at Norsescot ten years ago. Mega Armed Sai is also involved and knows a lot more about the incident than anyone suspects. Juzo's fight with Gondry took a lot out of him, and as his medication begins to wear off, his control slips, giving Mega Armed Sai just the opportunity he needs...