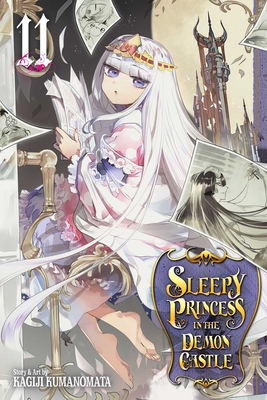 Sleepy Princess in the Demon Castle, Vol. 11 (Paperback)
VIZ Media LLC, 9781974712618, 168pp.
Publication Date: April 14, 2020
Other Editions of This Title:
Paperback (8/14/2018)
Paperback (6/12/2018)
Paperback (10/13/2020)
Paperback (2/12/2019)
Paperback (6/9/2020)
Paperback (8/13/2019)
Paperback (12/11/2018)
* Individual store prices may vary.
Description
A captured princess just wants a good night's sleep! Shhh…

Kidnapped by the Demon King and imprisoned in his castle, Princess Syalis is…bored.

Celebrate New Year's, Valentine's Day and a very special pajama party at the Demon Castle with the princess and her demon friends—er, captors! Then the Five-ring-pics athletic tournament captures the imagination of demons and human alike. But when one of the athletes turns the demons' human friend—er, hostage—into a besotted fangirl, the castle staff doesn't take it well. Also, Syalis imbibes a potion that induces her greatest fear, Demon King Twilight desperately tries to change his image and the hero Dawner adds a certain someone to his unwelcome rescue party.
About the Author
The creator of Sleepy Princess in the Demon Castle graduated from the BUNSEI University of Art. His first serialized series, Nuigurumi Crush, began in 2013 in Weekly Shonen Sunday S and concluded in 2015. Sleepy Princess began serialization in Weekly Shonen Sunday in 2016.