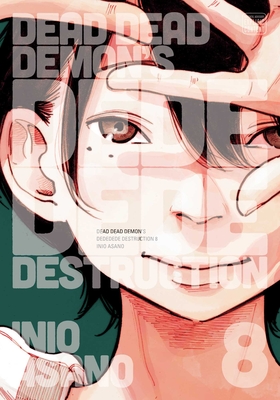 Dead Dead Demon's Dededede Destruction, Vol. 8
Paperback

* Individual store prices may vary.
Other Editions of This Title:
Paperback (10/16/2018)
Paperback (7/16/2019)
Paperback (1/19/2021)
Paperback (1/15/2019)
Paperback (4/17/2018)
Paperback (4/16/2019)
Paperback (7/17/2018)
Paperback (10/15/2019)
Description
It's just an everyday apocalypse.

Three years ago the aliens invaded Tokyo.

Nothing was ever the same again.

But after a while, even impending doom starts to feel ordinary.

The Occult Club's trip to the seaside has been a great chance for Kadode and her friends to unwind from the dual stresses of college and living through an endless alien invasion. Oba and Makoto forge a special friendship after hanging out on the beach, culminating in the two of them taking a scenic tour through Oran's memories from another timeline!

Too bad it looks like every timeline is the worst timeline…
VIZ Media LLC, 9781974715312, 164pp.
Publication Date: June 16, 2020
About the Author
Inio Asano, a bona fide earthling, was born in Ibaraki, Japan, in 1980. In 2001, his short story "Uchu kara Konnichiwa" (Hello from Outer Space) won the first Sunday GX Rookie Prize. Later, GX published his series Subarashii Sekai, available in English from VIZ Media as What a Wonderful World! His other works include Hikari no Machi (City of Light), Nijigahara Holograph and Umibe no Onna no Ko (A Girl on the Shore), as well as solanin and Goodnight Punpun, also available from VIZ Media.