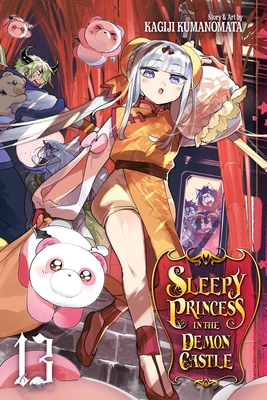 Sleepy Princess in the Demon Castle, Vol. 13 (Paperback)
VIZ Media LLC, 9781974718177, 176pp.
Publication Date: October 13, 2020
Other Editions of This Title:
Paperback (4/14/2020)
Paperback (8/14/2018)
Paperback (6/12/2018)
Paperback (6/11/2019)
Paperback (6/9/2020)
Paperback (2/12/2019)
Paperback (8/13/2019)
* Individual store prices may vary.
Description
A captured princess just wants a good night's sleep! Shhh…

Kidnapped by the Demon King and imprisoned in his castle, Princess Syalis is…bored.

The Demon King and his troops travel to a demilitarized zone bordering the demon world and the human world for some intense physical training alongside their human counterparts. When one group mocks the other, Syalis is hell-bent on putting them in their place! While the Demon Castle recovers from boot camp, the princess saves the day…and wrecks it even more. Then, an integral member of the Demon Castle staff resigns and heads for home…with the rest of the demons and one human in hot pursuit!
About the Author
The creator of Sleepy Princess in the Demon Castle graduated from the BUNSEI University of Art. His first serialized series, Nuigurumi Crush, began in 2013 in Weekly Shonen Sunday S and concluded in 2015. Sleepy Princess began serialization in Weekly Shonen Sunday in 2016.