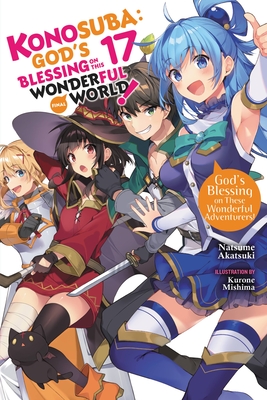 Konosuba
God's Blessing on This Wonderful World!, Vol. 17 (light novel): God's Blessing on These Wonderful Adventurers!
Paperback

* Individual store prices may vary.
Description
WHAT A LONG, STRANGE JOURNEY IT'S BEEN…

 "Just think. A boy from the weakest class, with no special abilities at all, defeating the Demon King. Doesn't that sound way cooler?!" 
One mountain of manatite, one trigger-happy wizard, and one party of lovable lunatics make quick work of the barrier around the Demon King's fortress. But just as they ready themselves to storm the castle proper, they run into Aqua—the person they were trying to rescue in the first place. Yet with their happy ending already in hand, Kazuma says the unthinkable: "How much do you think the bounty is on the Demon King?" 
And so, our gutless NEET finds himself on a collision course with the biggest baddie of all! Kazuma, Aqua, Megumin, and Darkness are going to need help from some very familiar faces to bring this world-renowned isekai comedy to a satisfying conclusion!
Yen On, 9781975343101, 160pp.
Publication Date: August 2, 2022
About the Author
Natsume Akatsuki is the author of Konosuba: God's Blessing on This Wonderful World!
Kurone Mishima is the artist behind The Devil Is a Part-Timer! High School!--the high school manga spin-off of the hit light novel series The Devil is a Part-Timer!