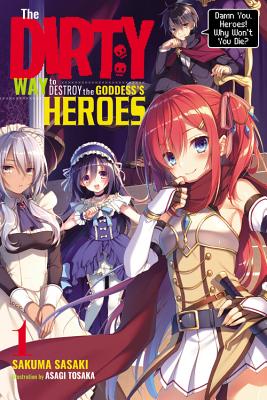 The Dirty Way to Destroy the Goddess's Heroes, Vol. 1 (light novel) (Paperback)
Damn You, Heroes! Why Won't You Die? (The Dirty Way to Destroy the Goddess's Heroes (light novel) #1)
Yen On, 9781975357115, 208pp.
Publication Date: July 30, 2019
Other Editions of This Title:
Paperback (11/26/2019)
Paperback (3/31/2020)
* Individual store prices may vary.
Description
Shinichi Sotoyama might just be the world's most average high schooler. That is, until he finds himself summoned by the Blue Demon King to a fantasy world-just like his favorite RPG games! Except this Demon King is pathetically begging at his feet, lamenting the arrival of some "heroes"...who apparently, have infinite lives and respawn over and over again?!
Unlike his hysterical summoner, Shinichi coolly takes on the challenge of fending off these pesky heroes, literally shaking hands with the devil. But the demon clan is about to find out that his twisted mind is darker than the worst of them!