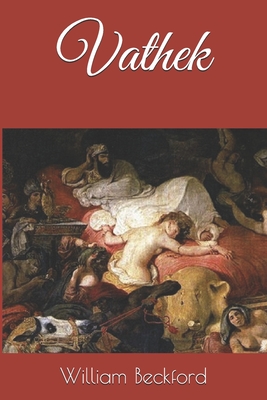 Vathek
Paperback

* Individual store prices may vary.
Other Editions of This Title:
Paperback (11/6/2018)
Paperback, Italian (10/19/2017)
Paperback (2/21/2013)
Paperback (8/30/2017)
Paperback (11/20/2018)
Paperback (7/25/2020)
Paperback (10/27/2018)
Hardcover (11/13/2018)
Hardcover (8/3/2020)
Hardcover (11/6/2018)
Paperback (10/6/2019)
Paperback (7/5/2018)
Paperback (11/13/2018)
Paperback (3/10/2017)
Paperback, German (4/5/2018)
Paperback (10/16/2018)
Hardcover (10/13/2018)
Paperback (10/13/2018)
Paperback (8/25/2017)
Description
Vathek is a Gothic novel written by William Beckford. It was composed in French in 1782, and then translated into English, and it was first published in 1786. Beckford's combined the popular Oriental elements with the Gothic style with its emphasis on the supernatural, ghosts, and spirits. Vathek, the ninth caliph of the Abassides, ascended to the throne at an early age. He is a majestic figure, terrible in anger, and addicted to the pleasures of the flesh. The novel chronicles the fall from power of the Caliph Vathek, who renounces Islam and engages with his mother, Carathis, in a series of licentious and deplorable activities designed to gain him supernatural powers. At the end of the novel, instead of attaining these powers, Vathek descends into a hell ruled by the demon Eblis where he is doomed to wander endlessly and speechlessly.William Thomas Beckford (1760 - 1844) was an English novelist, an art collector and patron of works of decorative art, a critic, travel writer and sometime politician, reputed at one stage in his life to be the richest commoner in England.
Createspace Independent Publishing Platform, 9781975813819, 158pp.
Publication Date: August 27, 2017