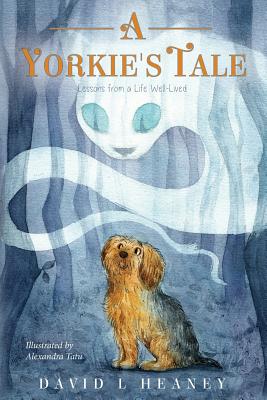 A Yorkie's Tale (Paperback)
Lessons from a Life Well-Lived
Createspace Independent Publishing Platform, 9781975991326, 150pp.
Publication Date: October 4, 2017
* Individual store prices may vary.
Description
In this charming spiritual adventure, author and pastor David L. Heaney uses the adventurous journey of a dog, a rat, and a parrot to impart important truths about the nature of life and the inevitability of death.
Niles, the titular Yorkie, has led a pampered life with his two loving owners and knows nothing of death. Only when his new friend Nathaniel, an inquisitive fruit rat, shares the puzzling tale of a family burying a "sleeping" cat does Niles begin to understand what death might mean. Another neighborhood critter, an eccentric possum called Leach, confirms that the cat wasn't simply sleeping-it was dead.
Shaken by the idea, Niles and Nathaniel decide they need to do something meaningful with their lives-but what? They resolve to venture outside Niles's backyard, and with the help of Poppy, a friendly parrot, and guided by cryptic messages from a cat Niles encounters in his dreams, they begin to seek out answers.
Their travels take them from their own neighborhood through a canyon right to the edge of the ocean. Along the way, they encounter and benefit from the wisdom shared by others-the seagulls, dolphins, and a visionary gorilla-about the mysteries of life, and the grace that comes from living "well" unafraid of their own mortality.
or
Not Currently Available for Direct Purchase