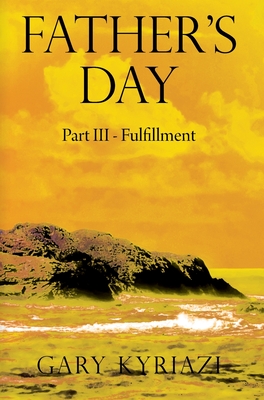 Father's Day
Part III - Fulfillment
Hardcover

* Individual store prices may vary.
Description
It's Father's Day, 1986, and for the third time, a body is discovered at the bottom of the cliffs of La Sangre, California. "We must put a stop to this " the Governor declares. But how?
PRAISE FOR FATHER'S DAY PART II - THE SECRET OF LA SANGRE:
"In Gary Kyriazi's taut thriller Father's Day, Part II, a pastor and an amateur writer investigate the dark secrets of a religious, insular town....With a marvelous sensitivity to the unique, rugged landscape of California's coastal region and the communities who make their homes along the twists of Highway 1, Father's Day is a tight and suspenseful thriller in which a community makes peace with the sins of its fathers." Clarion Reviews
"Readers will find a well-plotted story built on multiple characters whose lives have been impacted or even ruined by lies and wrongdoings. The writing is straightforward and clean, the omniscient point of view apt for the numerous behind-the-scenes stories. While religion plays a significant role, it serves largely to reveal character and establish the mood and tone of the small-town setting. In all, Kyriazi delivers an engaging story likely to be enjoyed by a wide audience." BlueInk Reviews
"As they come to terms with their messy pasts, La Sangre's inhabitants discover unsettling connections that turn relationships inside out and force some residents to redefine who they are...the unexpected ending will give readers satisfactory closure, and Kyriazi's fallen souls engage in intriguing discussions of how to make sense of so dark a world. Great for fans of Elizabeth's Strout's Anything is Possible and] Richard Russo's Empire Falls." BookLife Reviews
"In this sequel to Father's Day (2017), Kyriazi's prose is fluid and atmospheric, channeling at various points gothic fiction, domestic realism, and hard-boiled detective fiction" Kirkus Reviews
Outskirts Press, 9781977254757, 320pp.
Publication Date: June 19, 2022