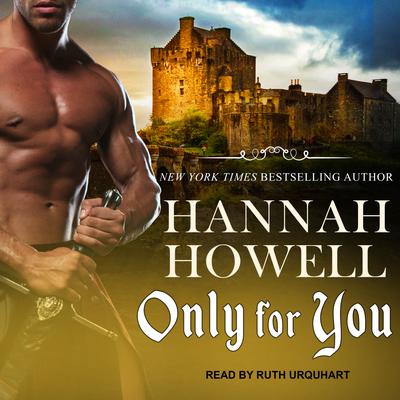 Only for You (Digital Audiobook)
Publication Date: December 3, 2018
Other Editions of This Title:
Compact Disc (12/4/2018)
MP3 CD (12/4/2018)
Mass Market (9/24/2019)
MP3 CD (12/4/2018)
Compact Disc (12/4/2018)
Paperback (7/1/2007)
Description
Hannah Howell spins lush, romantic stories that sparkle with intrigue and passion. Now, she gives us her most exciting novel yet: a medieval tale set on the untamed Scottish border, where a man and a woman risk their hearts on the stormy battlefield of love.



As wild as the rugged north country where she was raised, Saxan Honey Todd has sworn to avenge the murder of her twin brother. Recklessly, she gallops across the English countryside in pursuit of the man she believes to be his murderer: Botolf, Earl of Regenford.



As hard and unyielding as the armor he wears in battle, Botolf is irresistibly drawn to the impetuous beauty who has come to wage war with him. Saxan stirs his passion to the point of madness . . . but to love her would be madness indeed.



Now, as a desperate enemy stalks him and the greensward runs with innocent blood, Botolf brings Saxan to his castle . . . as his bride. But Saxan needs more: to fight by Botolf's side and triumph over the danger that surrounds them—as the beloved mistress of his very heart and soul.



Contains mature themes.
About the Author
Ruth Urquhart trained at East 15 Acting School and has spent the last twenty years working as an actor in theater, film, TV, and education. She is an Audible Approved Producer and has narrated over thirty titles. Among many other things, she has toured internationally and appeared in an Irish sitcom Give My Head Peace and the feature film Puckoon. She runs her own theater company and is a published playwright (Tea with Mrs. Pankhurst). Her forte is character work, and she has an excellent ear for accents. A native Scot, she was raised in Scotland with English parents; she quickly became bilingual in English and Scottish accents, speaking in an English accent at home and a Scottish one at school. She loves narrating audiobooks and has recorded a wide variety of genres requiring all sorts of different characters and dialects. She lives in Yorkshire, England, with her partner, two children, and an array of animals.