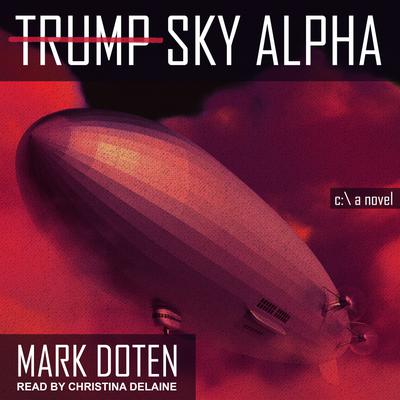 Trump Sky Alpha (Digital Audiobook)
A Novel
Publication Date: February 18, 2019
Other Editions of This Title:
Compact Disc (2/19/2019)
MP3 CD (2/19/2019)
Paperback (2/19/2019)
Description
A novel on the political madness of our time and the Internet's deep workings, by the author of The Infernal.



Twice a week, the president pilots his ultraluxury airship Trump Sky Alpha (seats start at $50,000), delivering, as he travels between D.C., New York City, and Mar-a-Lago, a streaming YouTube address to the nation, in which he trumpets his successes and blasts his enemies—until the day his words plunge the world into nuclear war. One year later, with 90 percent of the world's population destroyed, a journalist named Rachel has taken refuge in the Twin Cities Metro Containment Zone. Rachel goes on assignment to document the final throes of humor on the Internet in those moments before the end, hoping along the way to discover the final resting place of her wife and daughter.



What she uncovers, hidden amid spiraling memes and Twitter jokes in a working archive of the Internet's remnants, are references to a little-known book that inspired a shadowy hacktivist group called the Aviary. Their role in the downfall of the Internet, and the enigmatic presence of a figure known only as Birdcrash, take on immense and terrifying dimensions as Rachel ventures further into the ruins of the Internet. Mark Doten, a satirist of unparalleled vision, brilliantly details how the Internet has infiltrated every aspect of our lives, laying the groundwork for the tumult of our current political moment, and, in the kaleidoscopic, queer, all-consuming, parallactic swirl of Trump Sky Alpha, for the future headed our way.
About the Author
Christina Delaine is an accomplished stage and voice actor who has trod the boards of theaters from coast to coast. Notable theater credits include Jewtopia, the longest-running comedy in Off-Broadway history, and the title role in Antigone at both Portland Center Stage and Kentucky Repertory Theatre. A multiple AudioFile Earphones Award winner, Christina can be heard performing the works of several New York Times bestselling authors, including Chelsea Cain, Susan Wilson, Carla Norton, William C. Dietz, and Elin Hilderbrand. She has a BA from Dartmouth College, an MFA from Brown University/Trinity Rep, and a dog named Boo Radley.