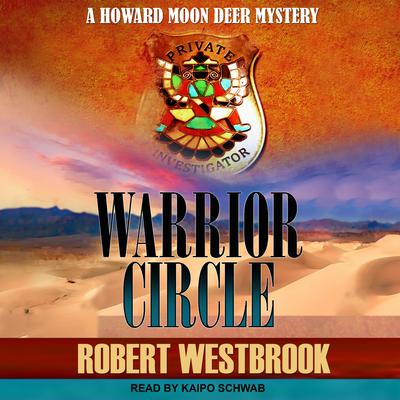 Warrior Circle (Howard Moon Deer Mystery) (Digital Audiobook)
Publication Date: March 25, 2019
Other Editions of This Title:
Paperback (7/13/2017)
Description
In the deserts of New Mexico, someone has just discovered his inner child . . . and it's about to throw a deadly temper tantrum.



When Howard Moon Deer's girlfriend Aria storms from his cabin in the middle of the night, he just considers it another conflict in their tempestuous relationship. But when he finds her Jeep abandoned down the road with no sign of her nearby, his instincts lead him on an investigation that uncovers the dark underbelly of a trendy southwestern town.



With the help of blind ex-detective Jack Wilder, Howard follows a trail of clues leading to a men's encounter group known as the Warrior Circle. Its members are prosperous local businessmen and upstanding members of the community . . . or are they? As the pair edge closer to the truth about Aria's disappearance, one thing becomes crystal clear—someone is acting out a murderous fantasy of power and revenge—and Howard and Jack may be the next victims.
About the Author
Kaipo Schwab is an actor, director, and producer who has worked at the Roundabout, Manhattan Theatre Club, the Public Theater, Second Stage, Playwrights Horizons, Hartford Stage, Cincinnati Playhouse, GeVa Theater, Pan Asian Rep, and New York Theatre Workshop. In 2004 he directed part of ABC's Cultural Diversity Showcase. His film and television credits include Anesthesia, Fair Game, The Royal Tenenbaums, It Could Happen to You, All My Children, The Protector, Law & Order, New York Undercover, Can Openers, Rescue Me, and Cosby. He can also be seen on Netflix's Orange Is the New Black playing the role of prison medic, Igme Dimaguiba. Audiobook credits include Jimmy Breslin's The Good Rat (2009 Benjamin Franklin Award winner), Walter Dean Myers' We Are America: A Tribute from the Heart (2013 Audie nomination) and Marilyn Singer's Full Moon Is Rising. Born and raised in Honolulu, Hawaii, he attended the British American Drama Academy and is a graduate of Boston University College of Fine Arts. Kaipo and his wife, Hope, live in New York City with their son, Giovanni, and their one-eyed pug, Wink.