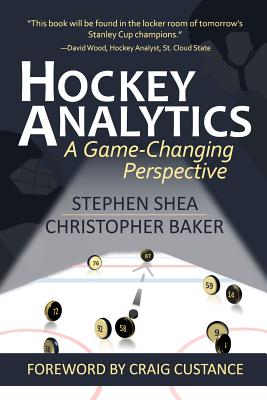 Hockey Analytics
A Game-Changing Perspective
Paperback

* Individual store prices may vary.
Description
A fraction of a second can be the difference between a one-timer finding the back of the net and a blocked shot that starts transition the other way. In the fast and fluid game of hockey, time and space drive success.
But hockey analytics hasn't appreciated these two most important factors. It hasn't respected the complexity of the game...until now.
Backed by the findings of an original study never before released to the public, Hockey Analytics demonstrates that-whether it is a failed pinch in the offensive zone, a missed rotation in the defensive zone or other blunder-the vast majority of goals are scored when the defense's positioning is compromised. The authors identify the actions that give players the time and space to read, react and execute. Their findings will shock even the most experienced hockey minds and call into question strategies regularly employed by the game's best coaches.
It is simple, actionable and nothing like you've seen before. Whether you're a fan, player or coach, Hockey Analytics will change how you experience hockey.
Createspace Independent Publishing Platform, 9781977533494, 188pp.
Publication Date: November 9, 2017
About the Author
Stephen Shea and Christopher Baker have consulted with teams, agents and players on game strategy, contract negotiations and offseason development. More than a decade of experience has shaped how they analyze sports and how they communicate their insights. They've learned that the best analytics don't operate in isolation. They absorb and leverage the wisdom of the sports' greatest minds. There is no substitute for the lessons learned through 30 years on the ice. They also understand that a sound study of any sport begins not with player and team analysis, but an investigation into how the game should be played, an assessment of the actions on the ice, field or court that lead to success. How can we assess hockey defensemen before we know the value of a stretch pass or winning a board battle? Or before we know if the modern game benefits from defensemen that can cut towards the goal and replicate a forward's offensive skills in tight space? Finally, they understand that their work won't have an impact until the conversation shifts from formulas and charts to lessons about the sport. Players are not going to improve through knowledge of how they rate in a catch-all metric like Wins Above Replacement or a line graph with their Corsi. Players need to know how effective they are in board battles, whether they find the open man in the slot on power plays, and whether they transition quickly enough after a turnover to their role in the forecheck or neutral zone trap. In short, analytics are about the sport at the beginning, in the end and everywhere in between. Their latest work, Hockey Analytics: A Game-Changing Perspective, is a book that only Stephen and Christopher could write. It's informed by years of working professionally in hockey and other sports. It's a deep dive into how the game should be played. And although it's backed by numbers, it's not a how-to manual for analytics; it's a hockey story.