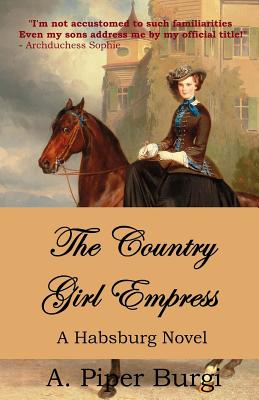 The Country Girl Empress
Paperback

* Individual store prices may vary.
Description
It was THE romance of 19th century Europe The young and dashingly handsome Emperor Franz Joseph I of Austria needed an Empress by his side according to his mother, Archduchess Sophie. The House of Habsburg was the most powerful ruling family in Europe, and the line of succession had to be maintained. For centuries, marriages had been arranged based on dynastic considerations and served the expansion of the Empire's power and it was not going to be any different this time. Princess Elisabeth was born on the 24th of December 1837 at the Wittelsbach Palais in Munich. As a daughter of Duke Max in Bavaria and his wife Ludovika, Elisabeth called "Sisi", grew up with her many siblings far away from all protocol at the small castle of Possenhofen on the shore of Lake Starnberg. More of a tomboy than a princess, she spent much of her childhood there. Sisi and her cousin Franz Joseph first met when she was 11 years old, and the girl promptly fell in love with the Emperor's younger brother Karl Ludwig. Franz Joseph, on the other hand, fell head over heels for Sisi's cousin Anna, niece of the King of Prussia. The handsome young Emperor had no shortage of female admirers, all hoping to one day become his wife. A few years later, Franz Joseph traveled to Bad Ischl to meet Sisi's older sister Helene who was predestined to be his wife. Little did he know that fate had other plans The years of Sisi's youth took place in the background of an unsettled Europe. Revolts, revolutions, and political intrigue were part of daily life. However, when Duchess Ludovika, along with her daughters N n and Sisi receive an invitation to join the imperial family in Bad Ischl for the Emperor's birthday festivities, an elaborate game of love and royal marriage politics ensues and finds an entirely unforeseen end in the idyllic resort town.
Createspace Independent Publishing Platform, 9781977542304, 364pp.
Publication Date: November 13, 2017
About the Author
A. Piper Burgi has pursued a variety of diverse careers. After honourably completing her tour of duty in the Air Force, and a short stint as an Air Force contractor, she began her journey as a military spouse, moving with her pilot husband from coast to coast. She is the author of five non-fiction books and recently added the historical fiction novel In the Shadow of Her Majesty to her ever-expanding collection of published writings. Piper began her writing career shortly after her mother passed away unexpectedly. Just a few months prior she had asked for Piper's help to get her memoirs published, but neither had any idea where to begin. As Piper worked hard to keep her promise to her late mother, she found, she needed some sort of balance between the sad memories of her mother's passing, and her own active lifestyle. She found that by writing her own stories. A lifelong student and lover of history, Mrs. Burgi was always and still is fascinated with historical events. She remembers all too well, the first time she ever heard of the English King Henry VIII and his six wives in high school. In 2011, after she picked up a few books about the iconic Henry and his many wives on a whim, she was hooked once again. This simple step reignited her love of history, and she has not stopped learning ever since. In addition to her six current books, Piper also has nearly 300 articles and blog posts published online, as well as in the German Women's Magazine Mach Mal Pause, which roughly translates to Take a Break. As an animal rights advocate she fosters dogs and puppies, and supports various animal rescue organizations. Her great affinity for animals and nature led her to write and publish the canine health book Living with Canine Epilepsy in November 2015 to help raise canine epilepsy awareness - a cause near and dear to her heart. When she is not busy chasing after her three dogs or holding on tightly to a good cup of coffee, she can be found typing away on her computer.