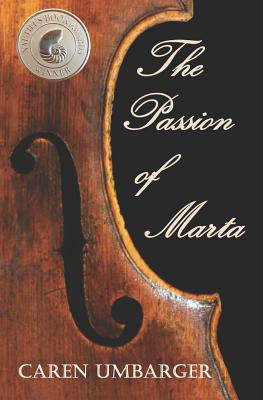 The Passion of Marta (Paperback)
Createspace Independent Publishing Platform, 9781977936196, 362pp.
Publication Date: November 6, 2017
* Individual store prices may vary.
Description
The night young Marta Lindauer first hears the sound of Leopold Wilhelm's exquisite lady's violin, an ancient spirit awakens within her and she is overwhelmed by the desire to learn how to play those beautiful haunting melodies. Her brother's bar mitzvah teacher, Ascher Thanhausser, bears witness as Marta's consuming desire to play the violin compels her down a path of secrecy and deception at the Lindauer inn. When tragic events ensue, he finds himself inextricably bound. In her diary, seven years later, Marta writes the story of her life. What profound truths lie hidden in the deepest, secret heart of this gifted 16-year-old girl? What surprises await? Set in 1780's Germany, The Passion of Marta is an epic journey into the heart of human fallibility - where the tangled complexity of treachery, deceit and betrayal is tempered by hope and the enduring power of love.
About the Author
Caren Simon Umbarger has played the violin since the age of five. She earned a BA in violin performance from Hamline University and has been a professional musician, conductor and string teacher for more than 35 years. Her first novel, Coming To: A Midwestern Tale, won a 2011 Florida Book Award bronze medal for General Fiction. Caren is the owner of a beautiful old violin made in Nuremberg in 1782 by Leopold Widhalm that wound up being the inspiration for this story. In 2011, moments before shipping it off to be sold, Caren reconsidered. Rather than part with her old friend, she was compelled, instead, to write a book about it. The result, six years in the making, is her second novel, The Passion of Marta. Widhalm's violin graces both the front and back covers. The author's family heritage played a significant role in the confluence of ideas that brought forth Marta's story. Caren's maternal great-grandmother, Rosa Rohrbacher Schlesinger, was born in Jebenhausen, Germany, and emigrated to America at the age of 16. Her paternal grandfather, Dr. Frank Simon, was a renowned American band director and teacher, who enjoyed a long and celebrated career which included seven years as the principal cornet soloist and assistant conductor for John Phillip Sousa. Caren Umbarger is confident that Wilhelm's lady's violin holds more secrets and has further tales to tell. She and her husband live, work & play in St. Augustine Beach, Florida.