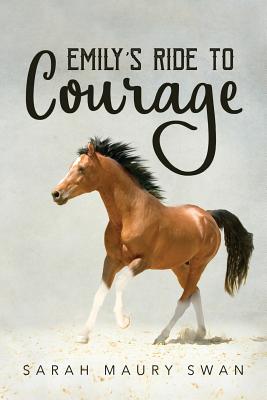 Emily's Ride to Courage
Paperback

* Individual store prices may vary.
Description
Emily is happy to be spending the next year with her grandfather on his horse farm. Her sister, Jen, couldn't be angrier about being stuck in the middle of nowhere while their mother is deployed in Afghanistan and their dad repairs bridges in California.
Jen is miserable at the thought of starting high school in a new town. She takes out all her frustration on Emily, who doesn't know how to help Jen see the beauty in farm life.
Emily's time on the farm gets even better when Grandpa hints that he will buy her a horse of her own. All Emily has to do is finish all the math schoolwork she's been assigned over the summer. Emily falls in love with the kind and gentle Gemini, but Grandpa declares that any horse with four white hooves is bad news.
As Emily works to get Grandpa to accept Gemini and her sister to accept their new situation, the unthinkable happens. Their mother goes missing in Afghanistan Emily and Jen feel helpless, but their special bond holds the clue to getting their mother home safely.
Createspace Independent Publishing Platform, 9781978170179, 148pp.
Publication Date: December 14, 2017
About the Author
Sarah Maury Swan was inspired to write Emily's story by her love for her nine-year-old Appaloosa. The first voice to come to her was Emily's grandfather warning about a horse with four white hooves. Swan and her husband ran a small horse farm in Maryland for twenty-two years. During that time, Swan showed her horse in many dressage competitions. Now, the couple are enjoying retirement in New Bern, North Carolina. Swan spends her time writing, and the first chapter of her new children's book, Emily's Ride to Courage, won the 2014 Carteret Writers' national writer's contest. Swan misses her horses but now spends her days golfing, kayaking, and exploring the scenic coasts of North Carolina. Her first published book is , Terror's Identity, which came out in 2016.