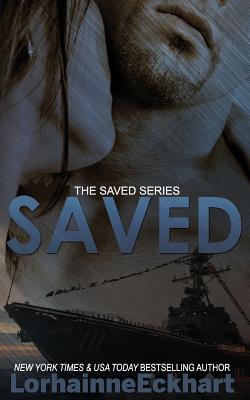 Saved
Paperback

* Individual store prices may vary.
Description
- "INTENSE AND GRIPPING NOVEL SAVED has it all, mystery, intrigue, deception, romance, and the truly uncomfortable realities of human trafficking. It is a fantastic read."
-"Eckhart knocks one out of the park with this great story." RT Book Reviews
-"Taken Okay you had me at the first page"....Katy M.
-God Bless our Military Men It takes a horrible, but real tragedy and shows how love can be a true healer. We need more men like the Captain Reviewer, Spring Hale
OVERVIEW: "Growing up I had dreams that one day I'd fall in love, get married and start a family. Then one night I was taken. But I survived, I escaped and I was saved. Eric didn't see me as damaged. He didn't see my baby as a monster. He protected me, he kept me safe ... he saved me."
If you loved Saved don't miss Abby's story in the next book of The Saved Series VANISHED, 'A 2016 Readers' Favorite Award Winner in Suspense' THE SAVED SERIES: Saved Vanished 'A 2016 Readers' Favorite Award Winner' She thought her nightmare was over Captured Or grab The Saved Series: The Complete Collection which includes all the books in this sizzling military suspense series.
More Praise for SAVED:
-"The emotional struggle was nothing like I expected."
-"Absolutely Loved this story Eric is a hell of a man. Abby is one hell of a strong woman and their story is absolutely romantic "
If you enjoyed THE SAVED SERIES, here are some of my other series you may also enjoy:
THE OUTSIDER SERIES: An Emotionally charged romance series beginning with the Amazon Bestseller, The Forgotten Child.
THE FRIESSENS: A NEW BEGINNING: The return of The Friessen men and the women they love in this emotionally charged Family Saga which follows THE OUTSIDER SERIES.
THE WILDE BROTHERS: Come and meet the Wilde Brothers of Idaho. Joe, Logan, Ben, Samuel, and Jake. You'll love the western flair and hot men and strong women in this romantic family saga.
WALK THE RIGHT ROAD SERIES: "The Choice will leave you questioning your own morals and motivations and leave you asking others what they would do in that same situation. This is a genre-bending novel that will surprise you" from JRA."Rarely have I spent time reading a series that had me feeling every thought and emotion." From Mary Ellen

Createspace Independent Publishing Platform, 9781978406360, 292pp.
Publication Date: October 17, 2017