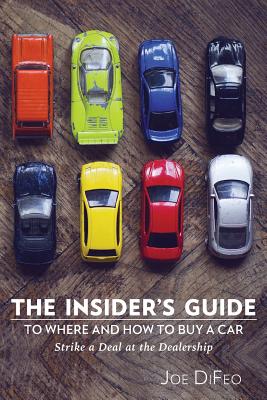 The Insider's Guide to Where and How to Buy a Car (Paperback)
Strike a Deal at the Dealership
Createspace Independent Publishing Platform, 9781978445208, 56pp.
Publication Date: November 7, 2017
* Individual store prices may vary.
Description
"An easy-to-read guide that attempts to demystify car buying." - Kirkus Reviews You're thinking about buying a car. You probably already have one in mind. You want a certain make and model; new or used, if used, with only a certain number of miles; and you maybe even know the color. You consider a few dealerships, either because you have heard about them by word of mouth or from advertised sales. But where do you go from there? Aside from buying a house or paying for your kids' college, this may be the most substantial financial decision you make in your life. So you have a right to be a little anxious. Who is the best dealer for you? Whom should you trust as a guide? As a long-time car dealer in a line of four generations of car dealers, I noticed a tendency in the majority of consumer guides to portray the car-buying experience as a duel between the consumer and the dealer and not the constructive and mutually beneficial partnership that successful dealers strive to achieve. These guides not only reinforce anachronistic stereotypes about dealers but also subtly discourage the consumer from exploiting the invaluable expertise of a knowledgeable and experienced dealer. I knew that from the first dealership my grandfather Sam DiFeo opened in Jersey City in the 1940s to the thirty-five stores family members operated by the 1980s, the formula to the consistent success and growth of the family business was an open secret. The emphasis on concern and care for the customer and on establishing firm roots in the community builds trust and devotion from consumers that translates to dealership loyalty and lifelong buyers. The Insider's Guide to Where and How to Buy a Car offers anxious buyers a step-by-step game book on how to ensure they get the car they desire at the best value. It teaches buyers how to become educated and engaged not to outwit dealers but to best enlighten them on their needs to create the most fruitful partnership. The book also pulls back the curtain on the ins and outs of the most anxiety-inducing phases of the car-buying process such as choosing the right dealership, deciding on the most advantageous financing, and choosing which type of used car best serves the buyer's need and budget. Consumers will find great value in this book because like few other such guides it demystifies the workings of a dealership by empowering the buyer to become fully participant in the deal process.
About the Author
Joe DiFeo grew up in Northeast New Jersey where the DiFeo name has been synonymous with cars and customer service from the '40s on due to his grandfather Sam's philosophy that "good business is about relationships, not transactions." Joe currently owns and operates Volkswagen of Saint Augustine in Northeast Florida. He helps a team of thirty plus A players serve customers guided by his grandfather's philosophy and core values that come from the H.E.A.R.T - Helpful, Efficient, Always Improving, Respectful, and Thankful. When he's not at the dealership he plays piano, guitar, and mandolin every chance he gets and enjoys the outdoors with his wife Sway and twin children Charlie and Sophia.
or
Not Currently Available for Direct Purchase