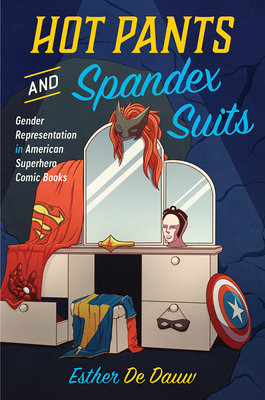 Hot Pants and Spandex Suits
Gender Representation in American Superhero Comic Books
Paperback

* Individual store prices may vary.
Other Editions of This Title:
Hardcover (1/15/2021)
Description
The superheroes from DC and Marvel comics are some of the most iconic characters in popular culture today. But how do these figures idealize certain gender roles, body types, sexualities, and racial identities at the expense of others?
 
Hot Pants and Spandex Suits offers a far-reaching look at how masculinity and femininity have been represented in American superhero comics, from the Golden and Silver Ages to the Modern Age. Scholar Esther De Dauw contrasts the bulletproof and musclebound phallic bodies of classic male heroes like Superman, Captain America, and Iron Man with the figures of female counterparts like Wonder Woman and Supergirl, who are drawn as superhumanly flexible and plastic. It also examines the genre's ambivalent treatment of LGBTQ representation, from the presentation of gay male heroes Wiccan and Hulkling as a model minority couple to the troubling association of Batwoman's lesbianism with monstrosity. Finally, it explores the intersection between gender and race through case studies of heroes like Luke Cage, Storm, and Ms. Marvel.
 
Hot Pants and Spandex Suits is a fascinating and thought-provoking consideration of what superhero comics teach us about identity, embodiment, and sexuality.
Praise For Hot Pants and Spandex Suits: Gender Representation in American Superhero Comic Books…
"In Hot Pants and Spandex Suits: Gender and Race in American Superhero Comics, Esther De Dauw has addressed the complexities of identity politics reflected in superhero comics from their earliest appearance eighty years ago. The superhero, a metaphor for the concerns of our culture, presents an apt topic for our understanding of the intersections of gender, race and national identity. The eighty-year span of the book offers us a mirror to our changing perceptions of identity politics and it is of interest to anyone interested in cultural, historical and media studies."
— Joan Ormrod

"Dr. Esther De Dauw asks us to reconsider the generic construct of the superhero and to ask not only who they serve, but how. More importantly, she shows how their high-minded words often obscure less lofty silences and thus also asks us who they be might harming."
— Martin Lund
Rutgers University Press, 9781978806030, 216pp.
Publication Date: January 15, 2021
About the Author
ESTHER DE DAUW is a Leicester, UK based comics scholar, who works on superheroes, gender and race. She has published in The Journal of Graphic Novels and Comics, contributed a chapter to the edited volume Unstable Masks: Whiteness and American Superhero Comics, and was the primary editor for the collection Toxic Masculinity: Mapping the Monstrous in our Heroes.