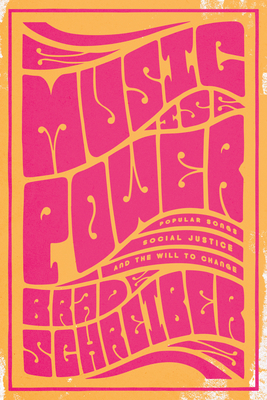 Music is Power (Hardcover)
Popular Songs, Social Justice, and the Will to Change
Rutgers University Press, 9781978808126, 238pp.
Publication Date: November 21, 2019
* Individual store prices may vary.
Description
Honorable Mention, 2019 Foreword INDIES Awards - Performing Arts & Music
Popular music has long been a powerful force for social change. Protest songs have served as anthems regarding war, racism, sexism, ecological destruction and so many other crucial issues.  
Music Is Power
takes us on a guided tour through the past 100 years of politically-conscious music, from Pete Seeger and Woody Guthrie to Green Day and NWA. Covering a wide variety of genres, including reggae, country, metal, psychedelia, rap, punk, folk and soul, Brad Schreiber demonstrates how musicians can take a variety of approaches— angry rallying cries, mournful elegies to the victims of injustice, or even humorous mockeries of authority—to fight for a fairer world. While shining a spotlight on Phil Ochs, Gil Scott-Heron, The Dead Kennedys and other seminal, politicized artists, he also gives readers a new appreciation of classic acts such as Lesley Gore, James Brown, and Black Sabbath, who overcame limitations in their industry to create politically potent music  
Music Is Power
tells fascinating stories about the origins and the impact of dozens of world-changing songs, while revealing political context and the personal challenges of legendary artists from Bob Dylan to Bob Marley.
Supplemental material (Artist and Title List)
: https://d3tto5i5w9ogdd.cloudfront.net/wp-content/uploads/2020/07/24001955/Music_Is_Power_Supplementary_Artist_Title_List.doc  
About the Author
BRAD SCHREIBER is an award-winning author, journalist, and screenwriter. His previous books include Death in Paradise, Becoming Jimi Hendrix, and Revolution's End. He has received fellowships and awards from the National Press Foundation, Edward Albee Foundation, International Book Awards, Independent Publisher Book Awards and Los Angeles Press Club.
 
Praise For Music is Power: Popular Songs, Social Justice, and the Will to Change…
— WGN Chicago
— Anthony DeCurtis
— Douglas Rushkoff
— Seth Rosenfeld
— Deep Dish Radio with Tim Powers
— Law and Disorder
— The Stuph File
— Nick Digilio Show - WGN
— Planet Proctor
— Midnight Writer News
"A fun read. It provides the old timer with a quick sail down the streams of memory and the younger reader with a useful and concise look at the music of the West that helped form the culture of today."
— CounterPunch
— Louisiana Radio Network
— Planet Proctor
— Unstructured Podcast
— The Allan Handelman Show interview with Brad Schreiber: Music Is Power"
— Largehearted Boy
— Madame Perry's Salon
— The Peter B. Collins Show
"A fun and informative read from first page to last."
— Midwest Book Review
— Madison Bookbeat
— Parallax Views
"Passing Through" KAAD-LP 103.5 FM interview with Brad Schreiber 
— Passing Through
"An intensively researched yet rollicking tour of socially charged music...A compelling read on the intersection of popular music and social activism, from Pete Seeger to Zappa to Public Enemy and beyond."
— American Songwriter
— Shadowproof
— Razorcake
— Shadowproof, Part 2
— Shadowproof, Part 3
"Much has been written about these artists elsewhere, but Schreiber's focus sets this study apart. He goes beneath the surface to detail how their social consciousness evolved during the course of their careers, and how they came to understand their music's power to address social ills. This carefully researched book is suitable for fans and scholars alike. Recommended." 
— Choice
— Madame Perry's Salon, part two
— Passing Through, part 2
"Coast to Coast AM" interview with Brad, Schreiber, part 1
— Coast to Coast AM, part 1
"Coast to Coast AM" interview view Brad Schreiber, part 2
— Coast to Coast AM, part 2
"Coast to Coast AM" interview with Brad Schreiber, part 3
— Coast to Coast AM, part 3
— Midnight Writer News
— Chatting with Sherri - Blog Talk Radio
— Beyond Reality Radio
— Talk with Ted podcast
— Reading and Writing podcast
— Nancy Yearout's High Road to Humanity